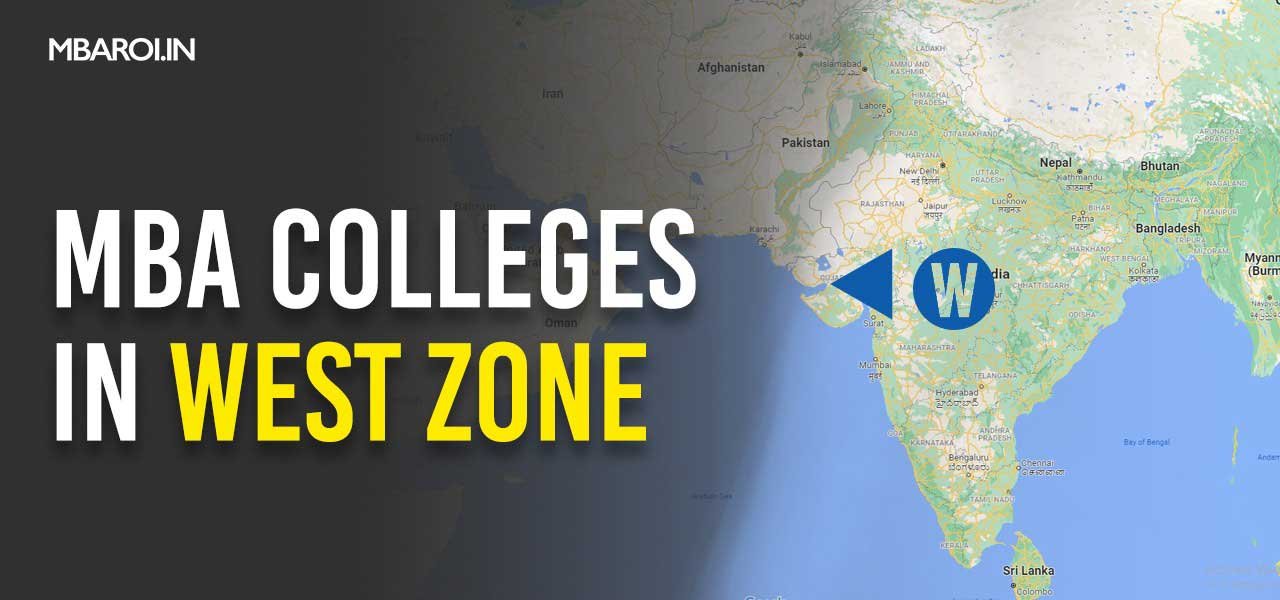 Towards the Western parts of India, Mumbai is the most significant city, which is also called the financial capital of India. Mumbai alone has at least 3 of the top ranked MBA colleges of India viz. SPJIMR, NMIMS School of Business Management and JBIMS - Jamnalal Bajaj Institute of Management Studies. They have constantly held their leadership in rankings for many years together. The West Zone houses, Indian Institute of Management -Ahmedabad, Symbiosis Institute of Business Management -Pune, Indian Institute of Management -Indore.
There is a sizeable section of urban population inhabitant in this highly industrialized part of the country. The main states of the Western region are Gujarat, Maharashtra, and Goa; and they have a significant focus on quality education, as students from different parts of India, prefer to come and settle around this region for its employability advantages.
Being located in the most commercially viable region of India, the management colleges of the region, consistently record the changing settings in the management field and come up with many new initiatives. IIM-Ahmedabad, the apex B Schools of the West Zone, adopts the state-of-art teaching techniques and steps for developing a management education system that is oriented for the industry. And the rest of the management institutes follow the lead to hold the technical standards in learning and placements.
The faculty is outstanding, live projects, active curriculum, collaboration, communication with industry experts give the students a hands-on experience to deliver their best, attracting the top corporates during hiring.
Other than IIM Ahmedabad, Western India is the address to many other B-schools of repute. Therefore, here is listing down a few MBA colleges in Western India, so that you could make an informed choice for your management career and goals.
MBA Colleges In West Zone
IIEBM
SP Jain Institute of Management and Research, Mumbai
Institute of Rural Management, Anand
Narsee Monjee Institute of Management Studies, Mumbai
Symbiosis Centre for Management and Human Resource Development, Pune
Prince L.N Welingkar Institute of Management and Research, Mumbai
Goa Institute of Management, Goa
Nirma University, Ahmedabad
Symbiosis Institute of Operations Management, Nasik
ITM Business School, Navi Mumbai
Balaji Institute of Modern Management, Pune
Symbiosis Institute of International Business, Pune
Symbiosis Institute of Telecom Management, Pune
Symbiosis Institute of Management Studies, Pune
Bharati Vidyapeeth's Institute of Management and Entrepreneurship Development, Pune
KJ Somaiya Institute of Management Studies and Research, Mumbai
Amrut Mody School of Management, Ahmedabad
Institute of Management Technology, Nagpur
Indus Business School, Pune
MIT School of Business, Pune
National Insurance Academy, Pune
Lala Lajpat Rai Institute of Management, Mumbai
Pune Institute of Business Management, Pune
Universal Business School, Raigad
International School of Business and Media, Pune
Dr. V.N Bedekar Institute of Management Studies, Thane
Mukesh Patel Institute of Technology, Management and Engineering, Mumbai
ICFAI University, Mumbai
MET Schools of Management, Mumbai
Adani Institute of Infrastructure,Ahmedabad
Conclusion
A plethora of B-schools has cropped up in the last few years. Since there may be vested interests playing; and different facts, figures share advice that are poles apart. Therefore, the applicants need to be careful when selecting an MBA college. Adhere to these parameters, to help you find the right college:
Location
Alumni
Placement Record
Reputation of the College
Curriculum
Faculty
College Accreditation
Career Plans
Right Course
MBA costs a lot in terms of time and money, hence reflect upon the above parameters to be in a right place. Pursuing an MBA has a promising future and the right choice gets you additionally acquainted with the enterprise standards.