WAT FOR IIMs
Full form of WAT is: Written Ability Test.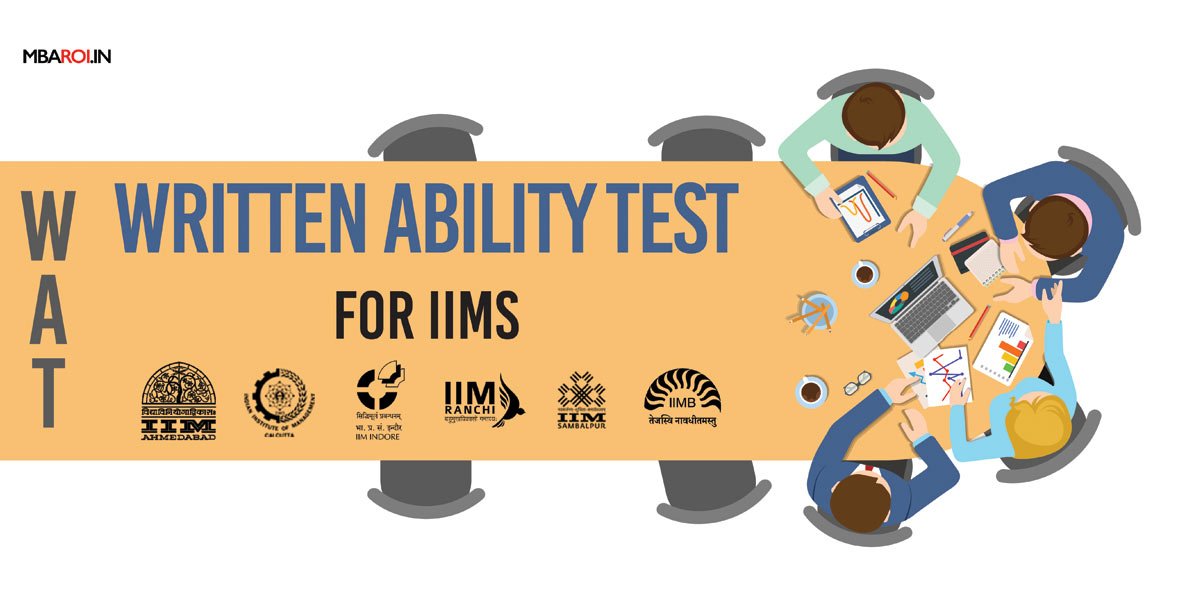 What is WAT for IIMs?
Written Ability Test or WAT is a pen-paper-based test with a time duration of Maximum 30 minutes and is a vital part of MBA admission process at IIMs. Few other colleges Like XLRI, IIFT, TAXILA also conduct WAT or maybe case study analysis which is similar to WAT. WAT in IIMs is conducted just before the personal interview and the duration could be from 15 minutes to 30 minutes. Now, In general, most of the IIMs have stopped taking GD (group discussion) and instead take WAT during the final selection process.
IIM WAT test is expected to be conducted in the first week of January 2022, just after the release of CAT exam result.
Is WAT Necessary for IIMs?
Yes! There are 20 IIMs in total and mostly all of them take WAT. They have replaced GD with WAT for admission to MBA/PGP program. As many candidates could not express their thoughts during group discussion so their actual ability could not be evaluated, therefore WAT was introduced in the final selection process of IIMs.
In a WAT round, aspirants could freely write their views and thoughts on paper without the fear of getting interrupted.
Topics for WAT and How to prepare
The idea of conducting WAT is to know the aspirant's critical and logical thinking so the WAT topics are selected in such a manner that aspirants can be judged on the above criteria. Maybe aspirants are required to place actual facts and figures.
Writing Ability Test (WAT) could have the topics based on:
Current affairs
Economics
Finance
Business
Political issues
Social Issues
Sports or
General, based on abstract topics.
As mentioned above, the topics could be of varied interest for example:
Gig Economy,
Bank Recapitalization
Weightage to IIM WAT
For the top-ranked IIMs like A, B & C the WAT weightage could be to the extent of 15% while for the Baby or new IIMs this could be on the higher side to the tune of 40%
As the WAT weightage is on the higher side, only a high CAT score will not be good enough to get you into IIMs. One needs to do a lot of effort to understand the WAT and hone up the writing and thinking skills.
WAT Preparation and WAT Topics
Preparation: Format of the Written Ability Test Round
WAT preparation typically will be an easy task if the candidate focuses on their written English. This includes,
Initial Introduction:
The first 2 to 3 sentences need to be highly engaging, in fact, the evaluator will proceed further if the initial sentences are effective, interest-creating, and logical.
Initial lines act as a catch to create engagement with the evaluator and get his/her responsiveness. This will help you score better. A good introduction will make the evaluator appreciate the controversial point of the whole essay and create interest in him to read the complete essay.
Correct sentence building:
Once your first 2 to 3 lines of introduction are ready, you need to create some sensation or excitement so that the evaluator remains glued to your essay. Thus, you need to ensure 'correct sentence building'. As an author, confirm that your sentence includes a subject and a predicate. They are the essential building blocks that can shoot up your performance. An accurate sentence gives out the impression of being a professional in English and having flawlessly written skills.
Content is Important than grammar:
Content has to be given priority on Grammar for WAT or IIMs. But don't use slang, incomplete phrases, long proverbs, etc. Cross-check a sentence after writing it.
Also remember, accurate grammar can help you better your essay. Keep your tenses in place, do not use too many helping verbs, try active voice more than passive voice.
Ensure Readability in your answer:
KYC: Know Your Customer, Yes! Know your Question first. Then go straight to the point. Don't beat about the bush. Write your answer in small sentences. And ensure the bonding between the sentences.
Final Brief Conclusion:
The last paragraph or lines should rationalize the core of the complete argument and information. This needs to be conclusive in nature and offer closure to the complete argument.
Important points regarding WAT Preparation
The WAT is very simple. This is about writing an essay inside recommended word limit, articulating your view and knowledge on the topic given. Though, the essay writing assessment, the simple it may look, is in reality hard to crack bearing in mind the ratio of aspirants and seats. One needs to make sure that the script is grammatically accurate, rich in vocabulary, driven by facts and figures, and depicts oneself as an appropriate manager of the future.
How to frame a WAT answer?
Be precise! Your answer should be between 350 to 400 words. All aspirants have to follow a common rule while framing their WAT answer. Your answer should not exceed 400 words, it should not be missing out on any fragment of a generic essay. Write down the most important points, which provide high-level insights to the evaluator.
Different Types of WAT Topics
There are three major types of WAT topics asked during the IIM selection process.
General Affairs
Persuasive
Philosophical
Different Sorts of WAT Topics
Generally, there are three major types of WAT topics during the IIM selection process.
Types of WAT Topics
Some Common WAT Topics:
Ethics and Business- Is it an ideal combination?
Is the smart cities initiative in India a failure?
Demographic dividend in India: Myth or Reality?
Challenges to higher education in India.
National Education Policy.
Will the reduced GST (Goods and Services Tax) aid in faster growth of the Indian Economy?
RTE (Right to education) - A boon or a curse?
Is linking Aadhaar with bank accounts a good idea?
Why should digital marketers care about net neutrality?
Is the stock market similar to online gambling?
Reasons for Indian economic slowdown.
Caste-based reservation is an impediment to a casteless society.
US-China Trade Talks: A political drama or renegotiation of rules of the game?
IPR for life-saving drugs should be granted or not?
How has technology changed the world of jobs?
Impact of coronavirus on the tourism industry.
Are bullet trains required in India immediately?
Should we be concerned about Global warming?
Is the banning of Pakistani actors justified?
Are indefinite stay orders rotting the essence of the Indian Judiciary?
What can be done to reduce income inequality?
Foreign Direct Investment (FDI) in the retail sector good for India- agree or disagree?
Strong leaders emerge when institutions are weak.
What is more important- Economic growth or Ecological Protection?