Group Discussion(GD)
Success Tips
GD: INTRODUCTION
"Discussion is an exchange of knowledge; argument an exchange of ignorance."
- Robert Quillen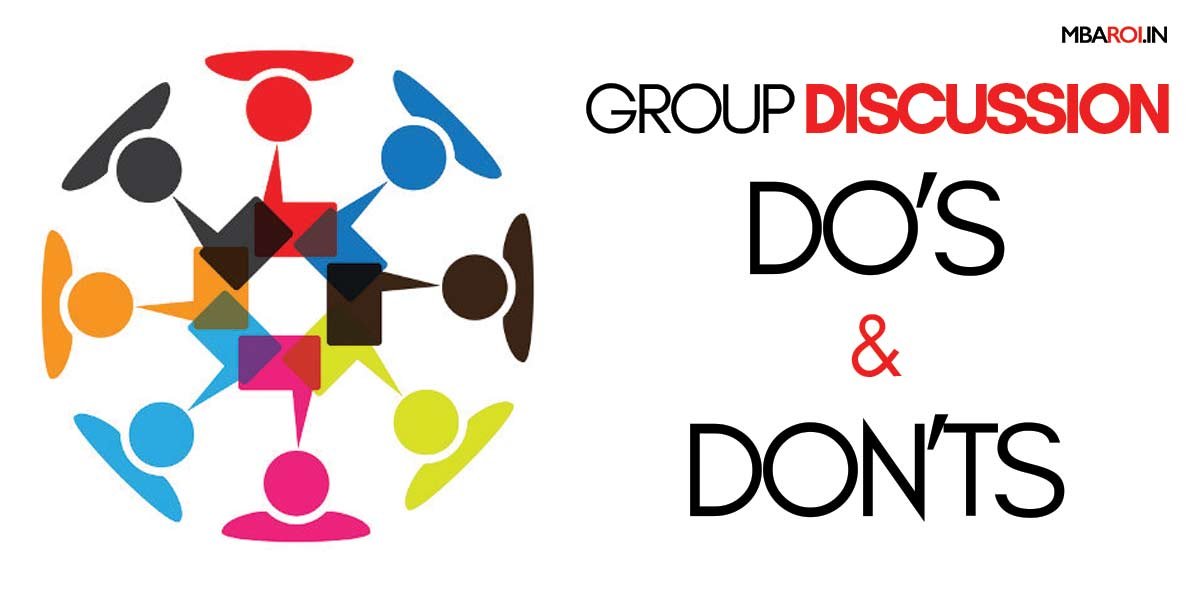 A saying true to every word. There is a difference between discussion and argument, and since we are literate, we should always favour discussion.
You must be wondering, why are you talking about argument and discussion suddenly? It is not sudden; it is discussion season.
As the exam season comes to its final leap, the Group Discussion leads in, and it is time we begin our final preparations for round two by understanding the Group Discussion (GD) process. In this piece, we shall delve into What is Group Discussion (GD)?, it's process, different formats of the GD, the evaluation criteria, and the background preparation essential to give us a solid groundwork in whichever GD we participate in.
It plays an important role in the selection process for MBA since the last few years, it has been replaced by WAT (Writing Ability Test) at most IIMs. On the other hand, IIM-K still conducts the GD along with the WAT on the same topic. In most reputed B-schools other than the IIMs, Group Discussion continues to be a part of the evaluation process. It must be observed that it tests many abilities and qualities that used to be tested in the WAT, and therefore a solid preparation of this round will ultimately help the candidate in acing his/her responses to the WAT topics.
Let us dive deep into GD:
What is Group Discussion (GD)?
Group Discussion(GD) normally comprises 10 to 15 participants at a time. The Group Discussion process commences by the declaration of the topic to the group, which is followed by giving preparation time of 3 to 5 minutes to everyone. Sometimes, more than 5 minutes' preparation time may be given only in the case that the topic is based on a case-study and requires longer statements.
As the preparation time comes to an end, the selection panel indicates the group to start off the discussion, and from then on plays the role of a silent observer, which means that they will not moderate or mediate the discussion. The group members have the liberty to discuss the topic as they view appropriate without any kind of suggestion from the panel. The panel does not specify the number of speakers and anybody can start or end the discussion. Even the time limit can be flouted.
The average duration of most Group Discussions is about 15 minutes (minus the preparation time). In some special cases (such as IIFT), the discussion may continue for more than 30 to 45 minutes.
Please Note: The longer the discussion gets on, the extra seriously the panel looks at the quality of the content of the candidate.
The panel typically is of 3 or 4 panellists, who will monitor numerous facets of the participants' content and delivery. Note that the panellists have the liberty to end the Group Discussion if they want to or can extend it for as much as they feel like. It is not the participant's job to keep time or worry about the Group Discussion ending in 15 minutes. It can end in either of the two ways:
First, the panel may abruptly end the round
Second, they may ask a participant (or more than one participant) to summarise the GD.
If a participant is asked to summarise the Group Discussion, they need to be aware of what summary means. Summary cannot be outside the discussion and they will have to stick to the points discussed. It is also common that the quietest participant is given a chance to summarize so that he/she may present their views as well. The summarization, however, must be impartial.
Why is GD conducted?
Group Discussion is important and every MBA pursuing student knows the value of it. Candidate's in the final year are well informed about it. It plays a massive role in the interviewing process. To understand the place of Group Discussion, you need to understand the point of view of an interviewer or a panellist. How it is important for a candidate and how to go about preparing for it. Don't forget to read about some of the most asked MBA interview questions and why they are famous for all interviewers.
This round is conducted to test the ability of a candidate's interactive skills. A group discussion is a situation where you interact with people you have ideally never interacted before; it is more like swimming in a soup. You will be judged on how you get along with them and how well you are able to put your point across without being demeaning or mean or rude. It also checks whether you can be a part of a team or not or are you a people's person?
It is best if you practice for this round while preparing for the entrance exam as it gives you ample time to be aware of yourself with current affairs and different prominent topics. Also work on your soft skills, eye contact and body language.
Process of GD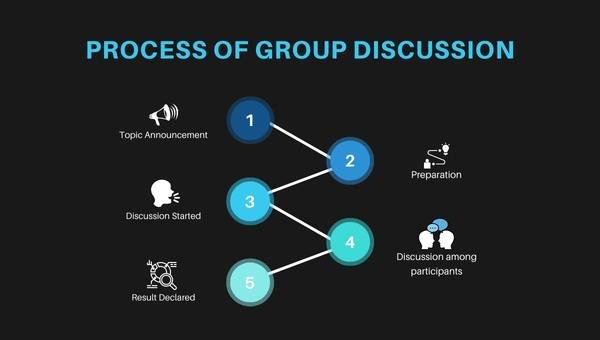 The process of GD Round follows the below-mentioned steps -
Step 1:- The very first stage of any GD is the announcement of the topic. The topic will be declared by the panelist.
Step 2:- It's a preparation time where all the candidates will be given a time of 2 to 5 minutes for getting their content ready
Step 3:- Now the discussion is started by one candidate and it can be anyone among the all participants. After that, each participant gets a chance to speak and present their views in front of the group.
Step 4: - Participants kept on speaking until the panelist ask them to summarize the whole discussion. Sometimes panelists are just asked to summarize the topic and anyone among all participants can summarize the discussion. But sometimes they ask the specific candidate to summarize mostly the quiet person in the discussion so everyone can get an equal chance. If they choose you then you make sure that you have heard all the participants properly and deliver all the relevant points that summerize the topic.
Step 5:- this is the final step in this panlist declare the scores of discussion for each candidates based on thier perfromance.
Types of Group Discussion (GD)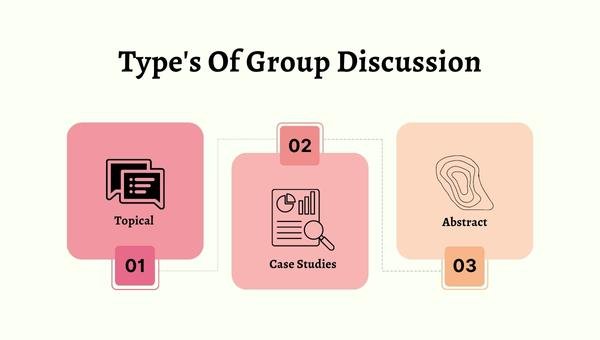 Group Discussions can be divided into 3 types:
Topical Group Discussions
The matter for these types of Group discussion is based on current affairs or static matters. Students are advised to be thorough with these and read newspapers daily to be up to date. Also, these discussions are not time bound.
Case-studies
In this student are given situations especially out of a business and will be judged on how they reach a solution to the problem. They will be required to analyse the situation and give their views.
Abstract Group Discussions
This kind of discussion gives no outline of the topic, which means no one knows which direction to take. The participants must use innovative strategies and ideas to steer the discussion. The topic could be one word or a sentence, but no one usually knows what to say on that or what the panel might like.
Contrary to what is understood, Group Discussions do not differ on difficulty level. A good weightage is based on it and the panel makes sure only the one deserving get through
Evaluation Criteria: GD
The evaluation of participants is based on two kinds:
Content
Your content matters. Period. What you must present during the ongoing discussion is being noted and reveals your comprehension skills. It is not necessary to talk a lot, sometimes quality matters rather than quantity. Even if you speak for like 2 minutes, make sure you present your ideas clearly and confidently. The panel does not want unnecessary jabber instead they want you to present a solid groundwork. Steer clear form irrelevant words.
Analytical skills
Every discussion is based on facts, so get your facts straight. The panel would like you dive into the 'how' and 'why' of the question. Your analytical skills are tested on a higher level and you are put to harshest of tests.
Reasoning skills
A topic requires you to reason with. The panel is interested in understanding how efficiently you reveal your reasoning skills. Not just with your argument but also how you take someone else's argument and turn it into yours. It is more like directing a conversation.
Organisation skills
Your argument should be organized. No amount of details or facts would matter if you are not able to present them in an organized manner. Think for a minute before you open your mouth.
Communication skills
Well since it is a Group Discussion, communication skills matter. How well do you communicate? Ask yourself this question. Are you able to speak in a simple term which others can understand? Or are you self-proclaimed Shashi Tharoor? Our advice sticks to the former.
Creativity
Remember how back in school Sky used to be purple? It is like that; you added your own colour to the sky now it is time to colour the argument differently. Think way outside the box. If everyone is thinking that way, think inside the box.
Listening skill
Sometimes, when 10 people are involved in a discussion, it is easier to drift away. Do not! More than presenting your argument, it would be best if you listen to others and then and there form your opinion. The panel is quite nosy, they will not bother you but be rest assured they are looking at you. When you're lost in your own thoughts, your facial expression changes, and they can catch it. Maintain eye contact with everyone, listen to everyone, take their argument, and compare them with yours.
Leadership quality
It is quite normal in Group Discussion that someone will be made a leader, not exactly that they are going to get extra points for that but it's just so they can begin the discussion and steer it in the right direction. Try to grab that chance. It showcases your leadership skills and how well you will be in a practical world.
Body language
Body language is one of the most important factors because in tense situations our body does not agree with us. It is natural to be nervous or anxious before the discussion, remain calm and composed or at least pretend to. Walk in the room straight and confident. Sit straight. Maintain eye contact, speak clearly. Use your hands wisely. Sometimes all these things seem difficult but give positive affirmations to yourself. Also, do not move unnecessarily, or play with your pen or tap your fingers or legs and most important do not run your fingers through your hair. All these show that you are not interested in the discussion.
Group behaviour
Mutual respect is everything. Sure, your point might be better than the other or you think you are more knowledgeable but still does not give you the liberty to insult them in an ongoing discussion. Give everyone a chance to speak, listen to them, do not cut them off, do not be dominating and do not get personal. IIMs want sensitive candidates, people working as bouncers.
Now that you know how you will be assessed, make sure to focus on specific areas of improvement during your practice GDs. Identify your shortcomings and work on that. Hire a trainer if you can or join an institute that will help you prepare.
GD: Do's and Don'ts
Dress Formally
A person's sense of dressing speaks a lot. Do not go on a crop top and jeans and T-shirt trail when going for a Group Discussion. Dress in smart formals for Group Discussion. Also make sure that you are comfortable. Dressing up nicely boosts your confidence level and increases your chance of making a good impression.
Speak First
Try to open the GD. Do not be disheartened if you cannot as someone else got the chance, but if you do, it is a big plus point. But it will only be favourable if you have understood the topic clearly. Even if you do not speak first, make sure to frame your argument well for your turn.
Eye Contact
Keep calm and relax. It is just a GD not a matter of life and death. Maintain eye contact with everyone, they are just as nervous as you are.
Let others speak
Give others a chance to speak. Do not cut them off. It does not give a good impression. Wait for your turn to present your arguments.
Be Assertive
Be polite. Use simple language to convey your thoughts. Do not be dominating. If you do not agree with someone's argument, put your point forward in a calm and respectful manner.
Be Sensible
Sometimes, it is easy to get carried away and we just end up speaking nonsense. Try to refrain from that. Do not keep going just so that you can get extra time, hence, extra highlight. It would not work if your argument is not strong enough anyway. Stick to the point and once you are done presenting it, kindly give others a chance to speak.
GD Weightage
In most of the IIMs and colleges, Group Discussion carries substantiate weightage. Every college has different weightage for GD so it is a little difficult to tell exactly how much scores you can get in GD. But it can range from 10% to 20% and if it is a part of PI and WAT, it carries a joint 50% weightage.
Trending Group Discussion(GD) Topics For 2022
FAQs
Question: What is Group discussion?
Answer: It is an assessment tool used by institutes and companies to identify the best candidate among all the applicants. Usually, 10-15 candidates participate in the discussion and the topic for discussion is given by panelists.
Question: What are the types of GD?
Answer: GD can be divided into 3 categories: - 1. Topical, 2. Case Study Based, 3. Abstract.
Question: What are the evaluation criteria for Group Discussion?
Answer: Panelists look for the various quality in a participant such as - communication, confidence, presentation skills, knowledge, leadership, team spirit, active listening, and attention to detail.
Question: How can I introduce myself in GD?
Answer:Start with your name followed by the topic of the discussion. Then give a brief introduction about the topic and after that present your views. Try to complete this in a time frame of 1 to 2 minutes.
Question: How to score more in Group Discusion?
Answer: In order to score more in GD, the candidate needs to present their ideas in the best way, They are advised to start the discussion and lead the whole process from the front. It'll show the panelist your ability to lead and also indicate your team-building ability.