CMAT 2023 Syllabus
CMAT - The Complete Guide
Updated CMAT Exam 2023 Syllabus
CMAT 2023 exam syllabus consists of 5 Sections - Language Comprehension, Quantitative Techniques & Data Interpretation, Logical Reasoning, General Awareness, and Innovation & Entrepreneurship. Earlier the innovation and entrepreneurship section was not mandatory to answer for candidates. From now onwards this section also carries the same weightage in the exam. The CMAT syllabus is directed by the AICTE. In order to take admission to top MBA/PGDM colleges of India.
The duration of the exam is 3 hours(180 Minutes), and 20 questions come from each section consisting of 100 marks. For every right answer, the candidate gets 4 marks, and for every wrong question, 1 mark is deducted in CMAT exam. Careful analysis of the exam syllabus is the initial step for candidates before they start their cmat exam preparation.
Total number of questions: 100

No of Section:5 section (Language Comprehension, Quantitative Techniques & Data Interpretation Logical Reasoning, General Awareness, and Innovation & Entrepreneurship)

Maximum marks: 400

Total duration: 3 Hours

Negative marking: 1 Mark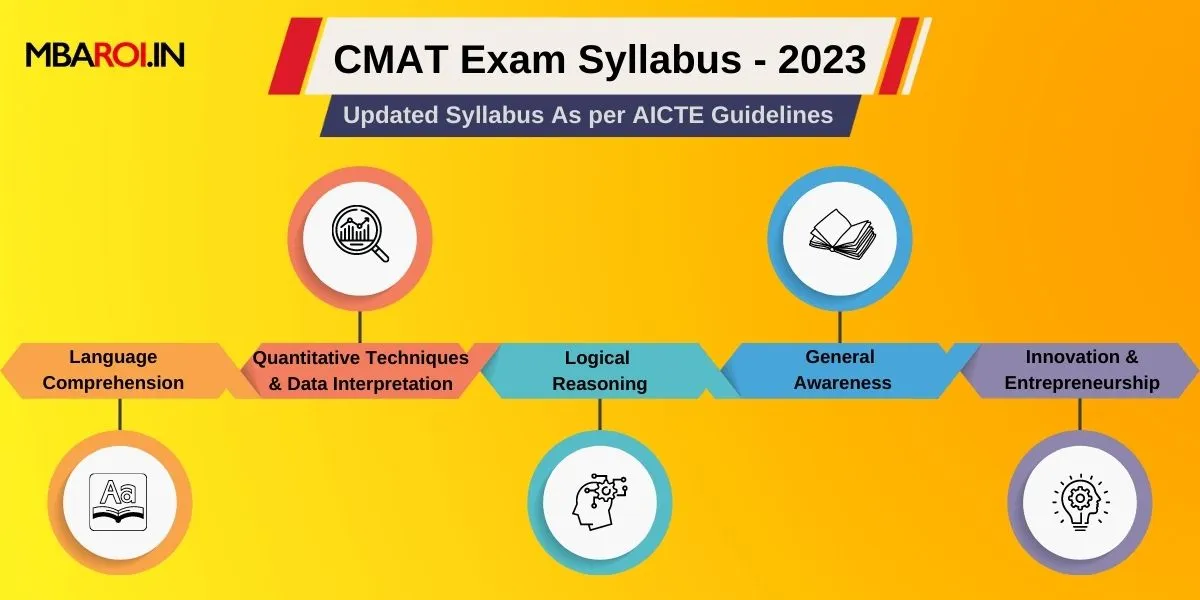 Sectional Sub-division of CMAT Syllabus
Section-1
Language Comprehension is divided into two parts - Verbal Ability and Reading Comprehension.
Section-2
Quantitative Techniques & Data Interpretation also consists of two parts with Mathematics and Data Interpretation questions.
Section-3
Logical Reasoning which has questions on various topics of Logical Reasoning.
Section-4
General Awareness (GK) Section which covers current affairs, static GK, Business & Economy, International current affairs, Who's Who, Constitution of India, United Nations Organization among other key topics.
All the sections have equal number of questions. In total 20 questions will be asked from each section. The CMAT exam syllabus for Quantitative Ability section is very wide and covers each topic in Mathematics with greater prominence on Arithmetic.
CMAT exam syllabus is based on the cmat previous year paper patterns which contain questions from all these sections.
Section Wise CMAT Syllabus
Click here to know about Best Books for CMAT Preparation
Section-1: CMAT Language Comprehension
CMAT defines its Verbal Ability section as Language Comprehension. It covers comprehensive English test which includes the test of grammar, tenses, vocabulary, jumbled paragraphs and reading comprehension.
Key topics in CMAT 2023 Syllabus are
Usage of Articles
Non-finites
Dangling Modifiers
One-word substitution
Sentence corrections
English usage corrections
Synonyms & Antonyms
Usage on Nouns & Pronouns, Adjectives, Adverbs, Prepositions –regular and followed, Verbs, Syntax, Subject-verb Agreement, Simple, continuous, Perfect tenses and Conditional-unreal past.
Jumbled paragraphs
Idioms
Verbal Ability
RC Passages
CMAT gives you briefer RC passages of 500-600 words. The passages are not exceedingly difficult passages. There is no fixed rule on framing the questions based on Reading comprehension passage, which is pursued by at least 4-5 questions each.
Questions could be any of following types:
Questions based on Inference
Questions based on the Central Idea of the passage
Questions based on phrases, idioms
Questions based on expression in the passage.
Section-2: CMAT 2023 Syllabus on Quantitative Techniques and Data Interpretation
Questions in this section are individual.
Quantitative Techniques
Arithmetic-Ratio, Mixtures, Work, Average, Percentage, Time & speed, Profit and loss, Interest, Basic statistics
Number properties
Probability
Alligations & Mixtures
Partnership
Permutation and combination
Counting principles
Inequations
Geometry
Pipe & Cisterns
Algebra
Binomial Theorem
Derivatives (Maxima-Minima)
Data Interpretation
Graph, Quardric and linear equation
Table and pie chart
Bar diagrams and graphs
Charts
Section-3: CMAT Exam 2023 Syllabus on Logical Reasoning
The section is a combination of the topics from arrangements like linear, seating, sequencing & arranging with conditions to coding.
The CMAT Logical Reasoning Syllabus covers the following topics:
Blood Relationship Test
Statement Arguments, Non-verbal reasoning, Statements Assumptions,
Number Series, Sequencing
Sequencing
Statement-conclusion
Inferences
Logical puzzle,
Coding - Decoding
Numerical puzzle
Direction & Distance
Venn Diagram
Cause & effect
True/false statements
Visual Reasoning
Number Series
Section-4: CMAT Syllabus on General awareness
This section in CMAT is divided into three parts.
Conventional GK
Current GK- based on current reading of newspapers and periodicals
Business & Economics GK – i.e. changes in Fiscal and Monetary policy, CRR, Repo Rate,
Devaluation and up valuation of Rupee.
Business, National, and International events
Who's who
Sports news, Personalities in News,
Literature
Culture, Geography, History of India
Constitution of India
Currency and Capitals of the countries
States of India
International Organizations
Monetary and fiscal tools
Emblem
Identification of personalities, companies.
Section-4: Syllabus of Innovation & Entrepreneurship
This section will ask questions related to innovation and entrepreneurship domain. In total 20 questions will be asked from this section which carries 80 marks in the exam. Earlier this section was optional to attempt but this year it is compulsory to solve this section.
Startups
Latest Innovation
Trends in Entrepreneurship
Role of Women in Entrepreneurship
Project Management
Management System Idea
Startups in India
Types & Framework of Entrepreneurship
Important Points about CMAT Exam 2023 Syllabus
The exam syllabus of CMAT 2023 is based on the guidelines prescribed by AICTE and the structure of the exam presently.
CMAT Exam Syllabus has no boundaries.
CMAT exam syllabus is based on recent developments in CMAT exams. The CMAT syllabus is the result of the topics which have earlier appeared in CMAT exam, though the type of questions, format and number may change in each ensuing CMAT exam.
Above mentioned exam Syllabus covers all the major topics in five test sections.
The key point in CMAT exam syllabus for MBA is that there is no repetition of CMAT questions in any CMAT exam although difficulty level of the questions in CMAT exam would not go out of CMAT exam syllabus.
CMAT preparation is incomplete without CMAT Syllabus
It is difficult to proceed with the CMAT preparation without getting an idea of the syllabus. CMAT MBA exam syllabus is wide enough to stump anyone. So, it is advisable to go through the syllabus first and then decide on the preparation.
FAQs
Q. What is the exam syllabus of CMAT?
Ans. CMAT 2023 exam syllabus consists of 5 Sections - Language Comprehension, Quantitative Techniques & Data Interpretation, Logical Reasoning, General Awareness, and Innovation & Entrepreneurship.
Q. Is CMAT easy to crack?
Ans. No! CMAT is not easy to crack surely it consists of a wide syllabus. Candidates who are seeking admission to top MBA Colleges of India accepting CMAT scores have to score more than 90 percentile.
Q. How much weightage does each section carry in CMAT?
Ans. In the exam, all five section carries the same weight. 20 questions are asked from each section and every section consist of 80 marks.
Q. Is the Innovation and Entrepreneurship sections mandatory in the CMAT exam?
Ans. Yes, From 2023 onwards innovation and entrepreneurship is a compulsory section in the exam. Marks of this section will take into consideration while calculating the percentile. Earlier this section comes as an optional section and solving this section is completely up to the candidates.
Q. What are some important topics of the CMAT syllabus?
Ans. Although all sections and topics are important from the exam point of view. But candidates can read arithmetic, reading comprehension, profit & loss, women in entrepreneurship, graphs, current affairs, and business news for better preparation.