WAT And PI For Top IIMs?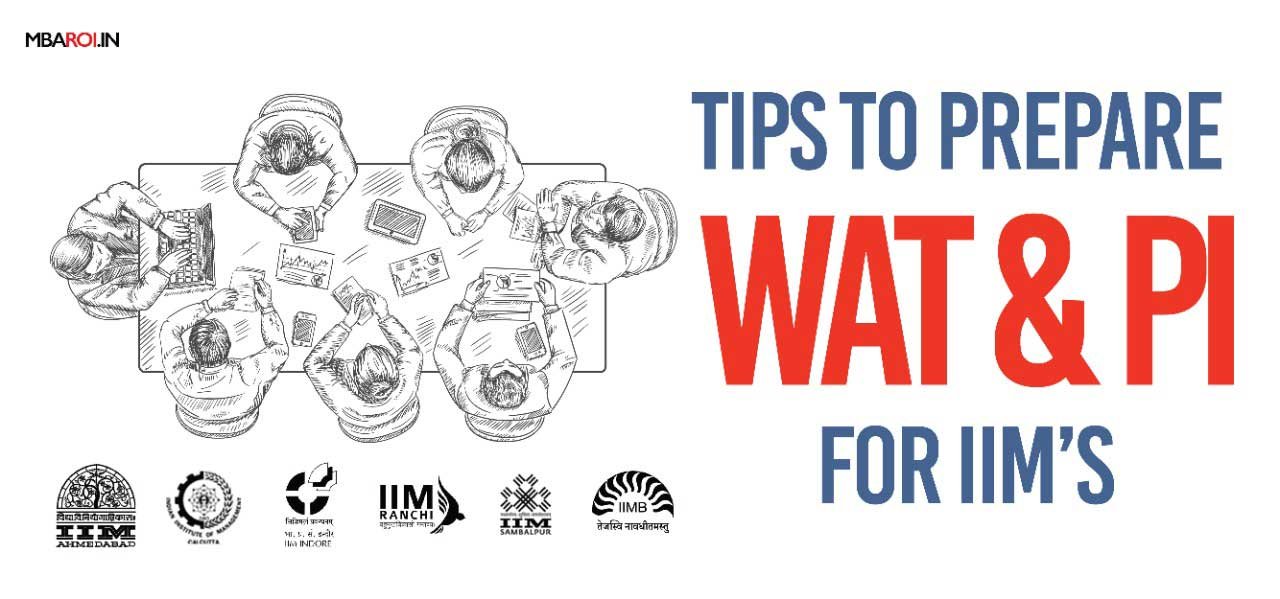 How Should I Prepare For WAT And PI For Top IIMs?
Before we start inspecting the elements of good performances in Written Ability Test and Personal interviews (WAT-PI at IIMs), here is a small catch-phrase for the candidates. "The aim of an argument, or discussion, should not be victory, but progress" – Joseph Joubert
WAT and PI are an important part of MBA selection process; it aims at a candidate's personality assessment. This is your test for leadership skills, problem-solving abilities, and communication skills. Your performance depends much on the clarity of your thoughts and how you balance between the things that you should say and what you should not say in the interviews. Not just IIMs, but the top B-schools depend much on these rounds to judge candidates' abilities.
This article will help you with some brilliant tips from MBA toppers and mentors so that you can give your best shot when in front of the board.
Components on Which You Are Judged in IIMs WAT-PI Round
Remember, that this is an unsurpassed chance of achieving admission to your preferred college. Begin with understanding, why WAT/PI is conducted by IIMs and top B-Schools. Every candidate is unique and you must ponder your strengths to give the best. The panelists are looking specifically for the below-mentioned capabilities in candidates when shortlisting them for admissions.
How to Perform Better In WAT and PI Rounds?
Written Ability Test (WAT)
This is about writing an essay inside recommended word limit, articulating your view and knowledge on the topic given. Though, the essay writing assessment, the simple it may look, is in reality hard to crack bearing in mind the ratio of aspirants and seats. One needs to make sure that the script is grammatically accurate, rich in vocabulary, driven by facts and figures, and depicts oneself as an appropriate manager of the future.
Personal Interview- PI
PI is a face-to-face interface between the interview panel and the candidate. Normally, the questions related to the background, lifestyle, experiences of the candidates are discussed here. The panel at this point tries to evaluate if the candidate has enough capabilities and skills to successfully pursue an MBA career.
Summary
The freshers should prepare well on topics from your curriculum, college and internship projects. Experienced candidates need to have a fair view of everything you do in your job profile. Present your roles, responsibilities, contributions, business environments, competitions, and initiatives, as soon as you get a chance. Know who your company CEO, Business Unit Heads are. Study and have an insight on vision and mission statements, core values of your company, its revenue, acquisitions/mergers and Sales, Profit and Loss, etc.
If you have been shortlisted for an MBA interview from IIMs or any top B-schools, go through the complete checklist of do's and don'ts in WAT-PI before attending the interview.
Know Thyself- Your strengths and weaknesses
Work on Knowledge boosters. If you wish, you can subscribe to our website or enroll in various personalized programs from coaching institutes.
Practice mocks daily for getting smarter in your interactions.
Take your mock interactions seriously and work on them
Being well prepared is the key to faring well in your test rounds. Confidence and composure only comes from a good preparation level. Do not fear personal interviews, focus on standing out and find out your unique traits to use them effectively.
All the best for the WAT-PI round at IIMs!
Few of NON IIMs accepting CAT score
TAXILA - Jaipur
Faculty of Management Studies (FMS), University of Delhi
Indian School of Business, Hyderabad
Indian Institute of Foreign Trade (IIFT)
Jamnalal Bajaj Institute of Management Studies (JBIMS)
National Institute of Industrial Engineering (NITIE)
S.P. Jain Institute of Management & Research (SPJIMR)
XLRI Xavier School of Management (XLRI)
Indian Institute of Management Indore (IIMI)
MDI GURGAON