IIM Placements 2022
IIM Placements Report 2022: Highest, Median, Lowest etc.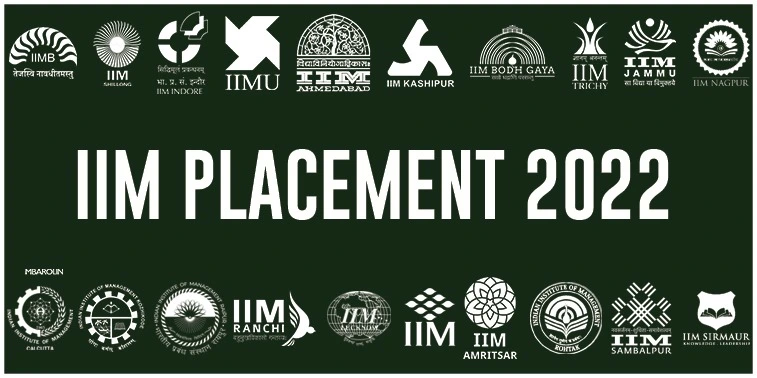 Around 5200 students passed out during 2022 from 20 IIMs spread across India. After analyzing the official data of every IIM this is concluded that the placement during 2022 started with a
Minimum Salary: Rs.7.0 Lakh
Maximum Salary: Rs. 55.86 Lakh in India.
3 students started their own business.
Students graduating from IIMs are considered one of the best managers of our country. They grow into their careers to become CEOs of many big conglomerates, and even this year IIM students did not disappoint the HRs of many big-name companies.
It has been observed that every IIM has a student cell which consists of students chosen from the current batch who in many ways is responsible for the campus placements in their college. This year IIMs placement drive recruited 100% students across their 20 campuses with the highest domestic placement of Rs 75.20 LPA in IIM-A.
Many big names like Accenture Strategy, Amazon, Bain & Company, Goldman Sachs, African Industries Group, Landmark Group, Deloitte, EY & BCG participated across all campuses.
It was also observed that almost 50 % of students had previously had work experience for an average of 2 years across all IIMs.
IIM Sirmaur and IIM A produced a total of 3 entrepreneurs in the batch of 2022. Major placements were seen in the consulting field followed by sales and marketing. It was also observed that mostly every IIM campus had an average increase of 10% in their average packages from last year's placements.
Must Know about: Total Seats and Fees of All IIMs
IIM Ahmedabad Placement 2022
The placement report for the PGDM course of IIM Ahmedabad has been out. As per the 2022 final placement report of IIM Ahmedabad, the highest salary offered was Rs 75.20 lakh per annum and the International salary was Rs 1.20 crore per annum. IIM Ahmedabad average placement for 2022 is 38.64 LPA which is 45% increase from last year average package. IIM A have outclassed other IIMs in placement department. IIM Ahmedabad's placement process for the academic year of 2022 was conducted in three clusters. A total of 80+ companies had participated in the placement drive of IIM Ahmedabad and offered 172 job roles to the participated students.
Placement Process
The final placement process was conducted in two stages. The first was the Laterals process where firms interviewed students with prior work experience and offered them mid-level managerial positions. 30 firms hired from diverse sectors such as technology, banking, consulting, general management and analytics. In the second stage of the Final placement process, firms were grouped into cohorts based on the profile offered, and groups of cohorts were invited to campus across different clusters.
IIM News: 2.31 Lakh Candidates Register for CAT 2021
Entrepreneurship
Only one student opted out of the placement process to work on his own venture.
IIM Ahemdabad only declared the placement report for the PGPX course as of now. Placement details of PGP will be updated soon
Also Learn About : CAT Exam
IIM B Placements Details
IIM B placed a total of 524 students from its 2020-2022 batch. The highest placements were observed in the consulting sector followed by general management and finance. The average domestic placement observed was Rs 33.80 LPA which is a 13.81% increase from last year's average salary. Students of IIM Bangalore received 662 offers letter from the 137 companies visited during 2022 placements.
The Complete Syllabus Composition: Revised CAT Exam Syllabus 2022
IIM-C Placements Details
IIM-C recorded 100% placements and achieved participation of 172+ companies which made a total of 631 placement offers for a batch of 465 students. The entire placement process was virtual due to the pandemic. The average domestic package was observed to be Rs 34.20 LPA. IIM Calcutta witnessed high growth in placements packages with an average of 55 LPA to the top 10% of students in 2022 placements. In 2022 almost half batch was placed in the consulting sector and 175 students received preplacement offers. The process was held in 3 parts, for the previously experienced, and fresher students.
IIM-Kozhikode Placements Details
2022 has been a great year for IIM Kozhikode in terms of placements. The average salary offered increased by 30% in 2022 and the highest salary increased by almost 34%. The highest domestic package offered to IIM Kozhikode students is 61.50 LPA and the average of the top 10% of Students' CTC is 52.90 LPA. In total 116 companies visited the IIM K campus during the 2022 placement and made 571 offers to them. Almost 41% of offered are made from consulting sector.
IIM-Lucknow Placements Details
MBA Placements 2022 has been a dream from all the IIM Lucknow students. IIM Lucknow managed to placed 100% of its 2020-22 batch. With an increase of 20% the average salary of IIM Lucknow student in 2022 is 29.00 LPA. Highest package offered to a IIM Lucknow student is 58.00 LPA (Domestic) and 61.59 LPA (International). In 2022 almost 200+ companies have visited the IIM L campus for placements and made 534 offers to students.
IIM-Indore Placement Detail
IIM-Shillong Placement Detail
IIM-Rohtak Placement Detail
IIM-Udaipur Placement Detail
IIM-Ranchi Placement Detail
IIM-Raipur Placement Detail
IIM-Kashipur Placement Detail
IIM-Tiruchirappalli Placement Detail
IIM-Visakhapatnam Placement Detail
IIM-Amritsar Placement Detail
IIM-Nagpur Placement Detail
IIM-Bodh Gaya Placement Detail
IIM-Sirmaur Placement Detail
IIM-Sambalpur Placement Detail
IIM-Jammu Placement Detail
Hope this page enhence your knowledge about IIMs and their placement details. We have shared all possible information related to IIMs placement on single page. Kindly share it with your friends for their benifits
Also Read