CMAT Registration
CMAT 2023 - The Complete Guide
CMAT Registration 2023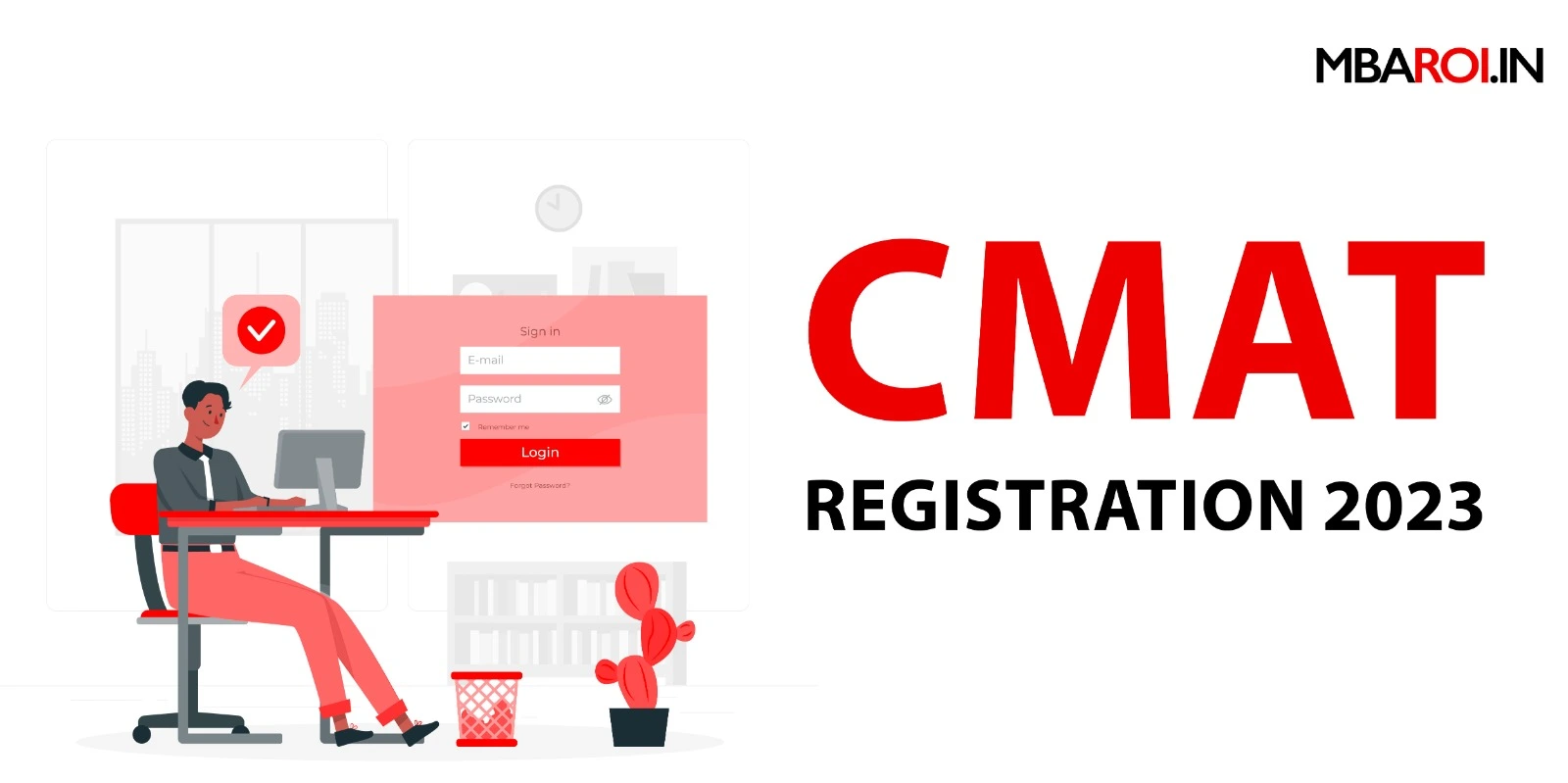 CMAT 2023 registration has been started from 13 February 2023. All interested candidates can apply for the exam till 13 March 2023. Before candidates start their application candidates are advised to check the eligibility and exam syllabus of CMAT 2023. The application form fee is 2000 for male candidates (general category) and 1000 for female, Transgender, and reserved category aspirants. Filling up the exam form is a mandatory step for all the aspirants who wish to appear in this CMAT 2023. In this article, you will learn about important dates for cmat 2023 important dates, steps to fill out the application form, the documents required, and mistakes to avoid during registration.
Obligatory for CMAT Registration
Candidates will require a valid email ID which should be active for the subsequent 6 months from the date of CMAT Registration. All the official communication will be done on this provided email id. The email needs to be registered to the candidate and not anyone else, for e.g. candidate should not use parent's/siblings'/ spouse's email.
They will also need a valid mobile number for receiving official information via SMS. Candidates will receive exam updates, important registration information, and details about their personal accounts via their SMS.
Valid Debit card/ Credit card if the mode of payment is online. If the payment is going to be through cash, candidates ought to have an operational SBI bank account that they can utilize and can process transactions through.
Documents Required for CMAT Application Form
All the candidates who are going to fill out the application form need to keep some document ready with them. Details of these documents will be asked during the exam registration. Some of the documents are mandatory and candidates have to upload those document. All the required documents for CMAT exam 2023 are mentioned below :
Application Process of CMAT Exam Form
There are mostly 6 steps involved to apply for CMAT:
Step 1 - Self Registration
Candidates will have to provide their necessary details to obtain a system-generated 6-digit Application Number. It will be helpful for the applicants if they keep a note or data of their application number so that they do not have any trouble logging into their accounts in the future. It is easy to forget long passwords.
Candidates are also required to create a PASSWORD and choose a security question and enter its answer.
After successfully submitting of the personal details, an application number will be generated, and it will be used to complete the remaining steps of the form. For consequent logins, the candidate will be able to login directly with the respective system generated application number and created password.
Candidates also have the option to reset their passwords if they accidentally forget or misplace it. The procedure is easy and only has a couple of questions. Once the security question is chosen, a verification code will be sent to the registered mobile number. By clicking on the link that is sent to the registered mobile number, candidates can reset their passwords.
How to Register for CMAT 2023?
Candidates are instructed to follow the steps below to complete the Registrations for CMAT:
Visit the official website of CMAT (cmat.nta.nic.in).
Click on Fill Online Application Form.
Click on the 'New Registration' tab under the New Candidate Registration box.
Read the Instructions and the Procedure before starting the process.
Also, download the Information Bulletin and then select the 'Click here to Proceed' tab.
Fill in all the fields such as

Personal details
Contact details
Choose Password
Security Pin
After providing all the details, candidates must examine all the carefully. In case of any changes, select the 'Edit Registration Form.'
Step 2: Complete CMAT Application Form
Make use of the system generated application number and created password, login again.
Select four choices for the exam city.
Options for selecting one's preferred exam cities are varied and diverse. Candidates can select various cities across India, this is done to make sure that applicants from all parts of the country can appear for the exam. Exam Centers extend all the way from Jammu to Tamil Nadu and there are multiple centers in each state.
NCR citizens have the option of choosing the New Delhi center as their center of choice.
CMAT Photograph and Signature Specification
You'll require photographs of:
All your qualification details
3 copies of bank challan (in case of offline payment)
A scanned copy of photograph and signature as per the following requirement:
Step 3: Upload Image
Candidates are required to scan and upload the following:
Photograph
Signature
Enter the security pin
Select I have verified Uploaded images carefully.
Note: Upload your recent passport size photograph and signature
Step 4: Pay Application Fee
The next step after filling up the online Application Form is to pay the Registration Fee. NTA has declared that the application fee will not increase for CMAT.
The application fee for different categories is as follows:
Modes of Payment
Online Payment
Candidates can select for ONLINE PAYMENT and then make their payment using Credit Card/Debit Card/Net Banking. Once a candidates' payment is successfully done. They will receive the confirmation email and SMS.
Cash Payment
Candidates can select for PAY BY CASH and make payment at any designated branch of SBI. This option is available to candidates living in INDIA and wants to appear for the test in India.
After selecting this option and a challan will be generated. Candidate will see a Challan with their details already filled. Candidate needs to take 3 print outs of this challan and fill in the details of the bank in all three copies and visit the nearest SBI branch and make the payment by cash. Cash deposit will be accepted from the next day after the Challan generation. Bank will also charge their bank charge in addition to the registration fee.
Note: Candidates must deposit cash at least 2 days before the closing of CMAT registration as it takes 48 hours to update the payment on registration portal. The bank will give back one copy of the challan with their stamp and journal number, candidates should also ensure that the Journal number mentioned in the challan returned by the bank is clearly visible before leaving the bank.
After 48 hours of making the cash payment, the candidate will receive the confirmation email and SMS that the payment has been updated on your registration portal.
Note - If the fee is paid through credit/debit card and status is not OK, it means the transaction is cancelled and the amount will, automatically, be refunded to concerned credit/debit card within 15 days. Therefore, such candidates must pay the fee once again and ensure the OK fee status.
Candidate should also NOTE that the fee once paid either online or through cash will not be refunded under any circumstances.
Mistakes to Avoid During CMAT Registration
Candidates will have to complete all registration process online. To complete CMAT Registration process smoothly and error free, NTA has suggested few key points, arrangement for required documents before beginning the registration process and avoid any kind of mistakes. All the key points suggested by NTA are mentioned below:
No internet interruption during CMAT Registration - Candidate should ensure that their computer internet connectivity is good, and no breakage/interruption occurs during the registration process.
No mistake on Academic details - Candidate should gather all their qualification details and fill them correctly during CMAT registration.
Provide valid email address and mobile number - Candidate should provide a valid email address and mobile number while registering for CMAT. All communication regarding the exam will be done on this email address and mobile number.
Scanned Photo & Signature should be of correct size - Candidates need to upload their scanned photo and signature while registration process. Therefore, candidates should keep ready their scanned Photo and Signature took on the white background of size 140 x 160 pixel (60kB) and 60 x 90 pixel (30kB) respectively.
Check the Validity of CREDIT/DEBIT CARD - In case of making payment Online, candidate should ensure that their CREDIT/DEBIT CARD is valid to have a smooth transaction and avoid loss of money.
Candidate should ensure to take 3 hard copies of CHALLAN, in case, they are planning to make payment by CASH at the bank.
Top colleges for admission
All AICTE approved Institutes/Colleges of Universities will accept CMAT scores. The specific notifications issued by Universities and State Governments are available at CMAT website, i.e. cmat.nta.nic.in
Given below are some of the top colleges accepting CMAT Score. Candidates clearing CMAT Cut-off and qualifying the pre-admission rounds will be called for the counselling process.
Institute Name
Jamnalal Bajaj Institute of Management Studies (JBIMS), Mumbai
SIES College of Management Studies
SIMSREE
Christ University, Bangalore
KJ Somaiya Institute of Management Studies & Research (KJSIMSR), Mumbai
Doon Business school, Dehradun
Goa Institute of Management, Goa
Great Lakes Institute of Management, Chennai
FAQs
Question. When CMAT 2023 registration will start?
Ans. Registration for CMAT 2023 has been started from 13 february, 2023 and it will remain open till 06 march.
Question. What is the fee for the CMAT application form?
Ans. CMAT exam fee is 2000 for all the male candidates of the general category and 1000 for the SC/ST/Reserved and transgender category aspirants.
Question. How to fill out the CMAT exam form 2023?
Ans. In order to fill out the CMAT application form candidates have to visit the official NTA website. There they need to fill in the required details and pay the exam fee for completing the registration.
Question. Is CMAT easy than CAT?
Ans. Yes! in some contexts CMAT is easier than the CAT. But if we talk about admission to top MBA colleges in india both exam carries the same difficulty level. In both examinations, candidates have to score 95+ percentile in order to get admission to the best colleges.