CAT Result 2022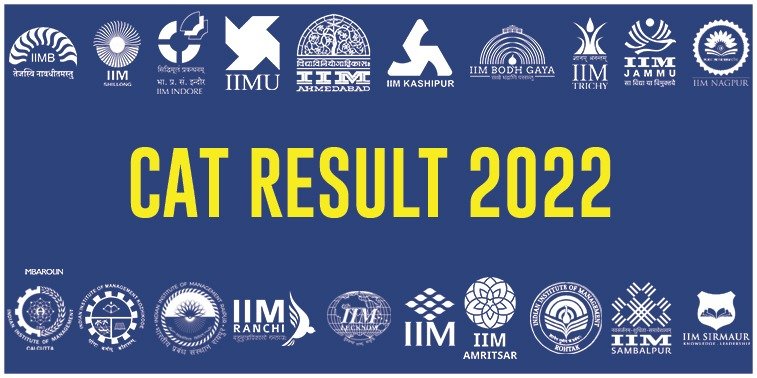 CAT is one of the most prestigious and toughest exams for MBA entrance . CAT results are accepted by some of the renowned colleges for the admission into MBA/PGDM courses. CAT result 2022 will be announced in the 1st week of January 2023. Candidates can check the result on the IIM official website iimcat.ac.in. For checking their result one needs to enter the CAT user ID and password. Let's see the table of content for the detailed information about CAT result 2022:
Table of contents
The following is mentioned on the CAT SCORE CARD:
Aspirants Name
Roll number
Category
Scaled Score and Percentile of every section
Overall Scaled Score and Overall Percentile
This score card is valid for one year that means till December 31, 2023 for the admission to different Business Schools. The shortlisting for IIMs will start after the result announcement. Call letters for WAT & PI will be sent by individual IIM as still there is no centralised admission process.
CAT Details - 2022
CAT result website: iimcat.ac.in
CAT Conducting body: IIM Ahmedabad
How to check CAT 2022 Result?
CAT result via CAT login required Credentials CAT ID and password
CAT scorecard 2021 validity: One year till December 31, 2022
CAT result score card used for: MBA/PGDM Admissions in IIMs, IITs and many other top MBA colleges including Great Lakes, TAPMI, FMS, MDI, IMT, IMI, SPJIMR, Taxila etc.
CAT 2022 IMPORTANT DATES
CAT Result Dates 2022:
As per IIM-A, CAT 2022 result will be announced during the first week of January 2023. For CAT 2022, below are the important dates:
| | |
| --- | --- |
| CAT exam 2022 | November 28, 2022 |
| CAT answer key release date | First week of December 2022 |
| Last date to file an objection against an answer key | Second week of December 2022 |
| CAT result 2022 date | First week of January, 2023 |
Steps required to download the CAT Score Card.
Step 1: Visit iimcat.ac.in, the official website for CAT.
Step 2: Click on link 'CAT Result Tab' and enter CAT user ID and password. You will be logged in.
Step 3: Click on the 'IIM CAT Score Card' link, CAT exam result 2022 will appear on the screen.
Step 4: Download CAT 2022 result Card.
Apart from the website students are also intimated on registered mobile number through SMS and on email as well.
CAT 2022 Result Highlights
CAT result 2022 will be available on the official website of IIM. Last year CAT 2021 results were declared on January 03, 2022. Keeping in view this trend, we expect CAT result 2022 may be announced in the first week of January 2023. The same day of the declaration of CAT result, an SMS is sent to all aspirants mentioning that the CAT result has been announced. On the same day CAT Score card downloading time is also declared only after that students can download their score cards.
How is CAT Percentile Calculated?
The calculation of CAT percentile includes three steps:Generally as per the CAT exam pattern for the last few years, three marks are given for each correct answer and one mark is deducted for every incorrect answer. Marks are not deducted for any wrong answer in NON MCQ section.
Step 1:Individually applicant's score is first evaluated section-wise and then the overall score is made by totalling the section-wise scores.
Step 2:Afterward, these section-wise and overall scores (raw scores) are normalized to arrive at a scaled CAT score.
Step 3:The normalized scores are changed into percentiles which are reported on the CAT scorecard.
CAT Percentile Calculation 2022
To calculate the CAT percentile, the scaled scores are used. The procedure of computing percentiles for the CAT result remains the same for all sections. The higher percentile, the better is the chances of selection. The process mentioned below will be used to calculate CAT 2022 percentile.
Step 1: Add the total number of applicants appeared for CAT in the morning, afternoon, and evening shifts. Let's say Total no. of candidates = N
Step 2: Assign rank = R, on the basis of the scaled scores obtained by candidates in VARC (can take any of the three) sections of all candidates who have appeared for CAT 2022. If two or more candidates will get same scaled scores in the VARC section, identical ranks are assigned to them. That means, if two candidates get the highest scaled score in the VARC section, then both candidates will be assigned rank 1. Candidate(s) obtaining the second-highest scaled score in the VARC section will be assigned a rank of 3.
Step 3: Then compute the percentile score (P) of an applicant with rank (r) in the VARC section as mentioned below:

P= (N-r)/ N) *100

Step 4: Finally round off the computed percentile score (P). This is done up to two decimal points. To cite an example, all CAT percentile scores greater than or equal to 99.995 are rounded off to 100, all percentile scores greater than or equal to 99.985 but firmly less than 99.995 are rounded off to 99.99, and so on.
What is the CAT Normalization process?
The CAT test is conducted in different slots, a normalization process is done where the marks of every candidate is scaled to bring equity in the marking process. The normalization process of CAT is a well-known exercise being followed for last couple of years to assess the performance of a candidate across multiple sessions.
What are the parameters taken into consideration for CAT normalization?
Highest score
Lowest score
Mean score
Median score
Top 10 percentiles
Lowest 10 percentiles
What after CAT Result 2022?
After the CAT result is declared, the candidates who meet the minimum CAT cut off criteria will be informed via an email by the individual IIMs for next step in selection process. Every IIM sends personal interview invitation letters to the shortlisted candidates directly through email/speed post. The shortlisting criteria varies from IIMs to IIMs. Generally, the IIMs follow the selection procedure which includes the following rounds:
What is Common Admission Process?
The new IIMs have a common selection procedure, called asCommon Admission Process (CAP). Students need to register separately for CAP once the minimum CAP cut-off percentile is released by the CAP conducting body. The final selection of the aspirant for MBA admissions is done on the basis of various parameters such as CAT score, academic history, work experience, academic diversity, gender diversity, and performance in WAT/GD-PI.
Frequently Asked Question (FAQs)
Visit for CAT Result 2022 Percentile & Score Card at download link
Question: When will the CAT 2022 result be declared? Answer: CAT exam result is expected to declared in the first week of January 2023.
Question: Will I receive the CAT result through SMS on mobile? Answer: Yes, CAT result declaration announcement will be sent to every CAT 2022 applicant through SMS on their registered mobile number; SMS will not show the CAT scores.
Question: What is the difference in CAT score and CAT percentile? Answer: CAT scores are the marks gained by applicants as per the marking scheme, while percentile reflects the position got by applicants.
Question: Is there any age limit for CAT? What is the age limit for CAT? Answer: There is no age limit for appearing in CAT.
Question: Till when can I download my CAT 2022 scorecard from the website? Answer: Till December 31, 2022.
Question: When will CAT cutoffs will be announced? Answer: Official CAT cutoff will be announced along with CAT result. The respective IIMs will start the shortlisting process after 2-3 days of releasing of CAT result.
Question: How is the re-evaluation or re checking of CAT result 2021 done? Answer: Not Possible. There is no provision of CAT re checking. One need to appear for Next year.
Question: If I do not clear the minimum CAT cut off, will I still eligible for IIM admissions? Answer: No, in order to appear for IIM admission process, candidates will have to clear the specified cut off. Candidates can apply to some other B-Schools for MBA admission on the basis of CAT scorecard.
Question: What is the validity of CAT scorecard? Answer: CAT scorecard is valid for one year only.
Also Read
Few of NON IIMs accepting CAT score
TAXILA - Jaipur
Faculty of Management Studies (FMS), University of Delhi
Indian School of Business, Hyderabad
Indian Institute of Foreign Trade (IIFT)
Jamnalal Bajaj Institute of Management Studies (JBIMS)
National Institute of Industrial Engineering (NITIE)
S.P. Jain Institute of Management & Research (SPJIMR)
XLRI Xavier School of Management (XLRI)
Indian Institute of Management Indore (IIMI)
MDI GURGAON