IIM CAP - 2022
CAP - Admission, Selection Process, Cutoff, CAP Participating Institutes, Dates, Shortlisting Criteria, Results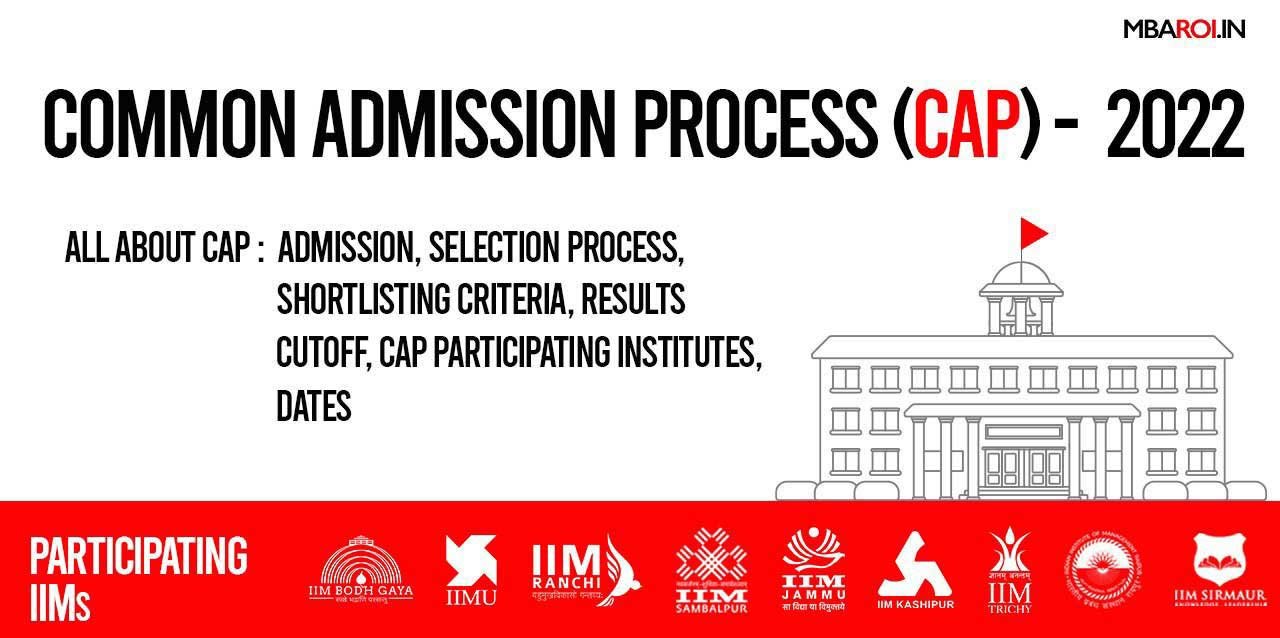 Full form of CAP: Common Admission Process.
What is CAP? Common Admission Process for MBA/PGDM for Nine New or Baby IIMs after CAT examination.
CAP 2022 - Common Admission Process or CAP is a selection process for MBA/PGDM/PGP program conducted after CAT for the admission to the new Nine IIMs. The CAP is mainly based on CAT scores.
The top IIMs including IIM-A, B, C, I, L do admissions on the basis of the individual cut off of each institute after the announcement of the CAT 2021 result.
The aspirants who get a call after CAT result needs to take part in CAP.
CAP has two components:
i) Written Ability Test (WAT)
ii) Personal Interview (PI)
Table of Content
What is IIM CAP 2022?
Common Admission Process or CAP for the admission to nine new IIMs is a common selection process. All the aspirants who are interested and eligible for MBA/PGDM/PGP admission 2022 in nine baby IIMs needs to appear only for the one time PI-WAT round. For this process, all new IIMs share the list of aspirants shortlisted for the WAT-PI process to the IIM conducting CAP 2022.
The IIM who conducts The CAP arranges for the WAT-PI round. Minimum CAT 2021 cut off, admission factors, and their weightage is same to all CAP participating IIMs.
The aspirants marks, obtained by them in CAP 2022 are then send to the all participating IIMs. On the basis of the final marks of the aspirant, individually, all nine IIMs announce their merit list of selected aspirants for their MBA program. The list of selected students is displayed on the respective IIMs website. Aspirants can see this list after logging in to the website of that IIM.
Dates for CAP 2022
Aspirants after qualifying CAT 2021 should know the schedule for IIM CAP 2022 as mentioned below.
CAP 2022 Important Dates
There will be no Group Discussion as part of CAP 2022.
Guidelines for Aspirants filling CAP Registration Form 2022
Aspirants are not allowed to change the details after filling in IIM CAP 2022 registration form on submission. Therefore, you are required to carefully read the instructions before you submit your CAP form.
At the time of filling up the IIM CAP registration form following documents are required. So keep them handy:
Soft copy of the Photograph and Signature (Less than 100 KB)
Photo Id Card
CAT 2021 Scorecard
Class 10 and Class 12 mark sheet with a pass certificate
Graduation certificates
Experience certificates
Valid caste certificate (NC-OBC/ SC/ ST) as per the format given on the CAT website.
In the case of DAP / PwD, certificate as per the format given on the CAT website.
In the case of EWS, certificate as per the format given on the CAT website.
Extra-curricular and co-curricular certificates
How to register for IIM CAP 2022?
Following is the process to register for CAP 2022:
Step 1: Visit the official website of IIM CAP 2022. The link to the website will be announced soon.
Step 2: Click on the link 'Register Now'.
Step 3: Fill all the desired information on CAP 2022 registration form.
Step 4: Upload all the compulsory documents in a approved format.
Step 5: Finally, submit the filled IIM CAP application 2022.
What is the IIM CAP 2022- Shortlisting Criteria?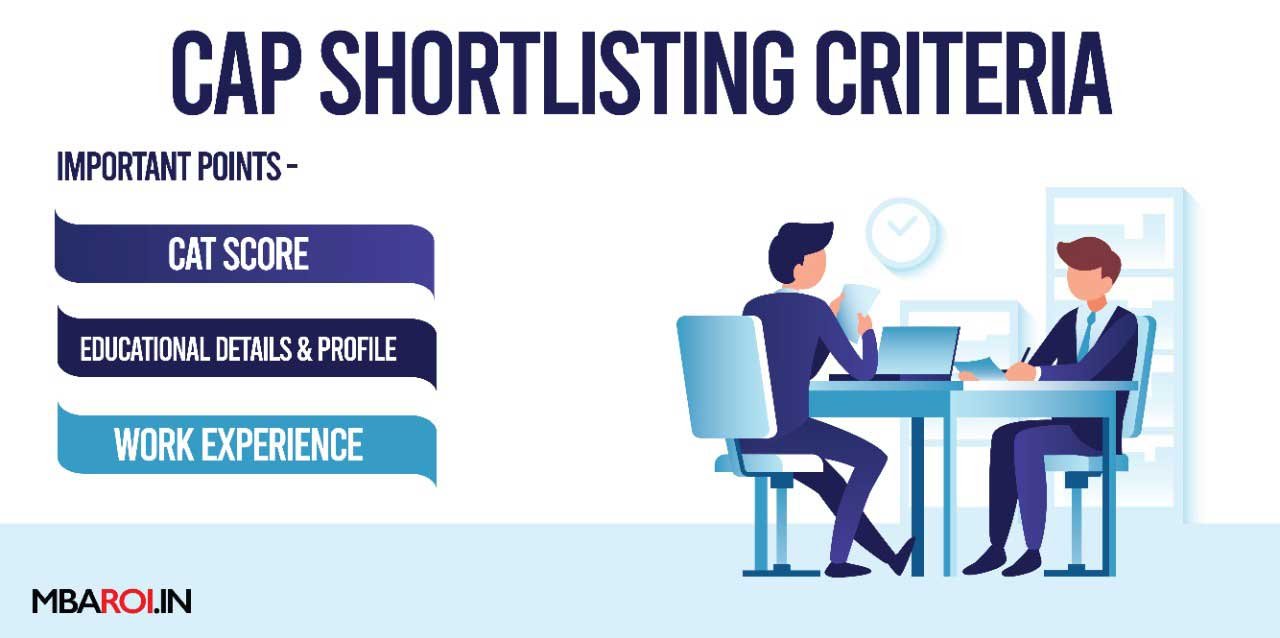 Mentioned here below is the mini cut off of CAT percentile needed in each category and the overall percentile for listing candidates for PI:
IIM CAP Admission 2022 criteria:
IIM CAP 2022 registration process will start after the declaration of CAT results expected in the first/ second week of January 2022 and the last date to register should be in the last week of January 2022.
REGISTER for CAP 2022 info
What are the Main Components of IIM CAP 2022?
The two major components of CAP 2022 areas below:
WAT or written ability test and
PI or personal interview.
How to Participate in CAP 2022?
Once the CAT 2021 result is announced during first week of Jan 2022, eligible candidates will get to know about the CAP 2022 dates on the website of the respective IIM. Eligible aspirants will also be informed by way of email. CAP process for IIMs should start three weeks after the announcement of CAT result 2021.
CAP Centres 2022
WAT (written ability test) and PI (personal interview) for the CAP 2022 of IIM will be held at the following CAP 2022 test centres:
New Delhi
Chennai
Kolkata
Mumbai
Bengaluru
Steps Followed in IIM CAP 2022:
Aspirants getting valid score in CAT 2021 are eligible to take part in CAP 2022. The steps that are followed by the IIMs are as below:
Step 1 - Shortlisting of candidates by individual IIMs
The aspirants meeting the particular cut off for the IIMs for which they have applied for, are shortlisted for the next round of the selection process. Aspirants get calls from several IIMs for the next stage of selection if they meet the mandatory cut-off of the IIM to which they had applied for.
Step 2 - List of shortlisted candidates is sent to CAP 2022 Coordinator IIM.
Step 3 - CAP conducting IIM to prepare list of shortlisted candidates.
Step 4 - Candidates to take part in WAT and PI
Aspirants who get a call for CAP 2022 are required to take part in the WAT, written ability test and PI, personal interview round be it in online mode or in person as decided.
Step 5 - CAP conducting IIM sends the WAT-PI score report to all participating IIMs under CAP.
Step 6 - Preparation of Final List of Candidates

All IIMs under CAP have their own admission plan and they provide weightage to the CAT score, applicant's profile as well as CAP score before making a final offer to the aspirants.Finally the offer letters are sent to selected candidates through email.
Baby or New IIMs Final Selection Weights after CAP 2022
The 9 participating IIMs will prepare the final merit list for PGP/PGDM/MBA admission 2022 on the basis of scores obtained in CAP 2022. Thereafter, these IIMs will announce their final admission offer independently on the basis of the marks scored in PI and WAT in CAP 2022; CAT 2021test and other parameters like academic profile, diversity subject to their individual admission criteria.
Final Selection Weights after CAP 2022
CAP 2022 Shortlist: 23000+ Expected to be Shortlisted
As the number of seats in IIMs are increased, this year 23000+ candidates who qualify the sectional and overall cut offs in CAT 2021 exam may figure in the CAP 2022 shortlist.
Shortlisting Ratio increased
More candidates per seat are shortlisted by IIMs as against earlier ratio.
REGISTER for CAP 2022 info
Category wise shortlist of candidates based on CAP
CAP 2021 - Shortlisting Cut-offs for IIMs (Last Year)
Aspirants may have a look the minimum percentile for shortlisting by various IIMs and also the number of candidates who were shortlisted for the next round of selection.
Proposed Intake Through CAP for 2022-24 batch
IIMs Shortlisting Criteria - Important Points
Besides CAT 2021 score few of the main points that are considered while shortlisting the aspirants are mentioned below: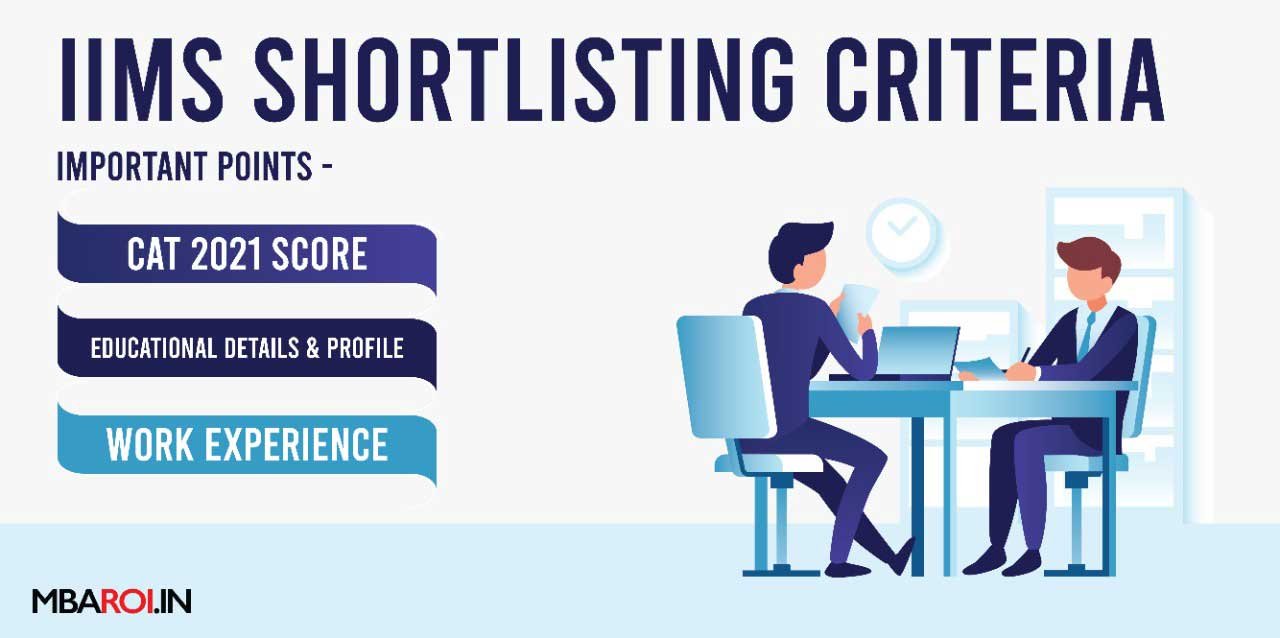 CAT 2021 Score:

IIMs that offer admission to the aspirants consider the overall as well as the sectional cut-off of CAT.

Educational Details & Profile

Academic qualification of the aspirants is given due weightage for selecting student for the final admission. Few of the IIMs give more weightage to the girl aspirants as well.

Work Experience.

5 to 10% weightage is given to the students having supervisory experience of around 3 years plus.
Expected Cut offs for CAP 2022 of participating New IIMs
Frequently Asked Question (FAQs):
IIM CAP 2022: Participating IIMs, Application Process, Admission Criteria and Cutoff
Question: What are the CAP 2022 centres?
Answer: Most probably CAP 2022 centres are as follows:
New Delhi
Mumbai
Kolkata
Chennai
Bengaluru
Question: How to participate in CAP 2022?
Answer:After the declaration of CAT result, the shortlisted candidates can check the information about the CAP 2022 dates on the website of particular IIM. Shortlisted candidates will also be informed through email.
Question: Which IIM conducts IIM CAP?
Answer: During last year in 2021, IIM Raipur conducted CAP. For 2022 yet the name is not declared, one of the nine participating IIM will conduct CAP, Common Admission Process.
Question: Which IIMs are the part of CAP process?
Answer: In 2022 nine IIMs will participating in the IIM CAP process. These are:
IIM Jammu,
IIM Bodh Gaya,
IIM Raipur,
IIM Kashipur,
IIM Sambalpur,
IIM Ranchi,
IIM Trichy,
IIM Sirmaur
IIM Udaipur.
REGISTER for CAP 2022 info
Question: What is the eligibility for IIM CAP?Answer: Same as CAT eligibility criteria i.e. the aspirants need to have secured 50 percent marks in total aggregate graduation for reserved it is 45 percent.
Question: What is the CAT cutoff for General category candidates under IIM CAP?Answer: IIM CAP cutoff for General category candidate in 93 percentile (overall). Sectional cutoff for QA is 70 percentile, DILR- 70 percentile and VARC- 70 percentile.
Question: When is IIM CAP process conducted?Answer: IIM CAP process is conducted after the declaration of CAT result.
Question: Do I need to be present physically for IIM CAP process?Answer: This year it may be, last year 2021 it was online due to Covid.
Question: Which new or baby IIMs are not participating in CAP process?Answer: IIM Nagpur, IIM Visakhapatnam and IIM Amritsar is not participating in CAP process.