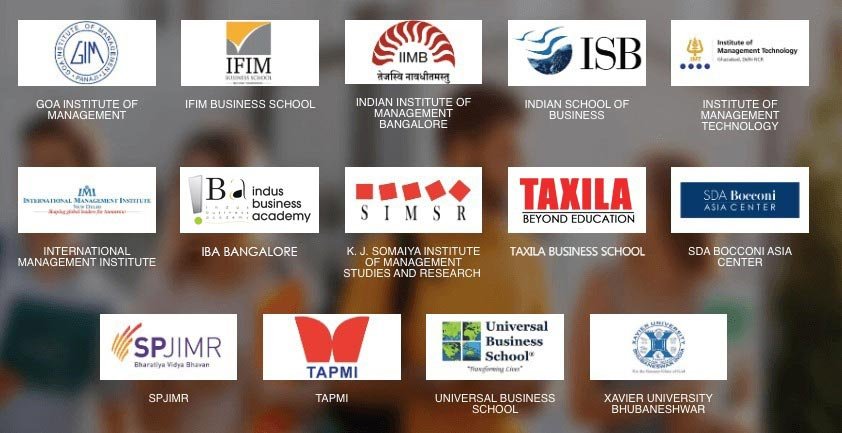 Are you looking for Best MBA Colleges in India, Here we have mention Top 10 MBA Colleges in India below, first we will talk about why it is important specially in this contition to get a best MBA College. At this time we are seeing global economy on the way to recovery, which is likely to hit back even more aggressively in search of new ways to counter the Covid 19 Impacts .
The coming year is going to be a beginning to the head back to pre–COVID times or even better. Everything is going to be in favor of the class graduating in the year 2023. Hence, this year's Top 10 MBA Colleges in India, according to ranks make a lot of sense to the MBA prospects in terms of utility. With a number of business schools running in India, situation may turn both worthwhile and confusing to the applicants.
In this perspective, there are a few ranking agencies like IIRF, CSR, Business India, Business Word and NIRF that are considered dependable and responsible. They help applicants steer through the available options. The below Top 10 MBA Colleges In India rankings are based on IIRF 2021 publication which relies a great deal on authentic information and deep understanding of available data that is put to analysis appropriately.
Based on an extensive research, here, you will be proficiently guided by expert opinions and industry experience with respect to MBA admissions 2021. The important parameters and the methodology used by IIRF and these honorable organizations are regarded as India's most credible B-school Rankings. IIRF rankings are out and IIMs still lead the charts but FMS, XLRI, JIMs, and Taxila Business School have unwaveringly retained their leadership, in spite of hard competition.
Here is the list of Top 10 MBA Colleges in India, ranked by IIRF:
Factors chosen to rank above Top 10 MBA Colleges in India list :-
This above categorization of Top 10 MBA Colleges in India is going to help MBA aspirants in many ways. This petite list broadly is a summation of placement record performances, high quality education, and recognition of Business Colleges for MBA and programs, quality of students, infrastructure and the programs offered by them along with their relevance in current scenario. This list acts more like a guide to check out the of top MBA colleges in India for direct admission in MBA.
Depending upon your percentile scores, you may want to apply for colleges who take admissions both above and below your score. This will simply cover any jump or fall in your CAT percentiles. Take into consideration the cost of application for each institute and apply in an optimal number of schools based on your affordability.If applications are higher across categories, it will ensure that your chances of selection are up.
Also Read:- Admission in IIMs Without CAT
Key highlights of the above Top 10 MBA Colleges in India List :-
Key highlights of the above Top 10 MBA Colleges in India table is that IIMs are still No 1 B-schools in India, followed by FMS and XLRI. MBA College like XLRI, SPJIMR, MDI & NMIMS still adhere to their headship in the list. Business schools like Taxila has a strong industry-engagement and their program differentiation are significant takeaways for contenders. All of these colleges have very strong placements and there have been great all-round improvements too.
Every student has dream to study among Top 10 MBA colleges in India which is not just popular but has various aspects covered such as faculty, placement and return on investment (ROI) etc. Therefore always refer to the most trusted MBA rankings agency. Consult not just one ranking agency but refer to many, and make wise decisions to build your careers bright.
Related Articles: