NMAT - 2021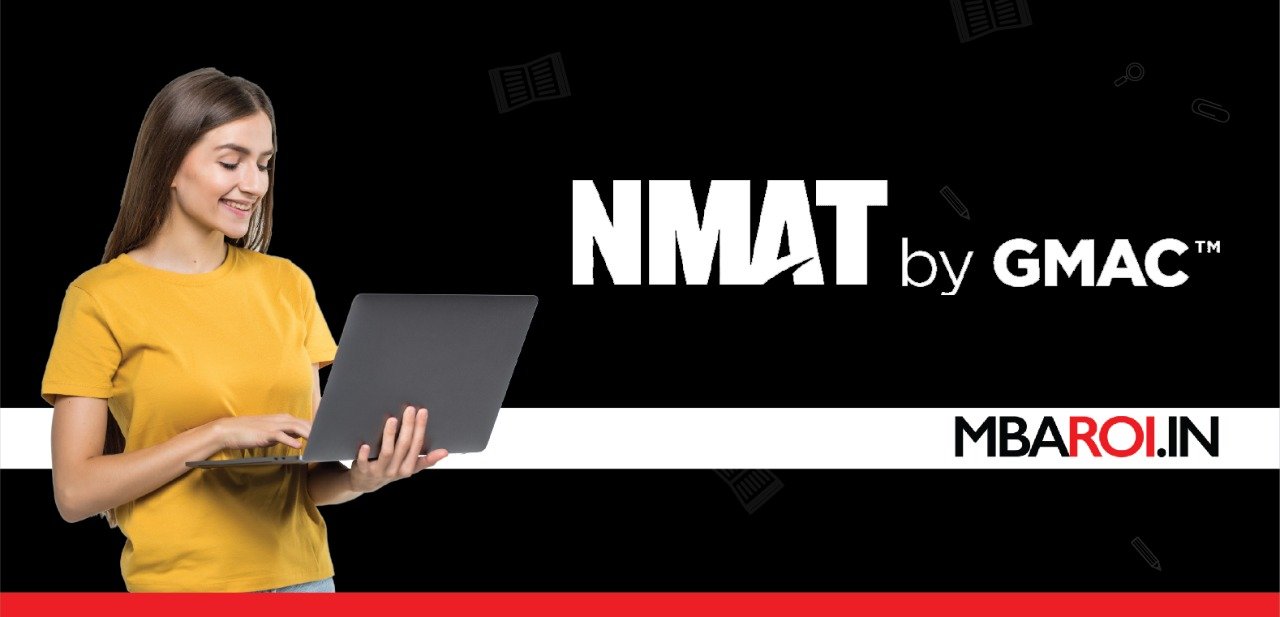 Full Form of NMAT is NMIMS Management Aptitude Test and the Exam conducted body is GMAC.
NMAT is a National Level MBA entrance exam. This is one of the toughest MBA entrance exam. After clearing this exam MBA aspirants are eligible to apply for most of the prestigious colleges in India and overseas. Indian MBA Colleges like NMIMS Mumbai, SPJIMR Mumbai (PGMPW), ISB (Certificate programme), VIT Vellore, Taxila Business School, XIM Bhubaneswar and many other MBA colleges.
The NMAT test registration and the School Application process are two different steps. Initially candidate must clear the NMAT exam and then the aspirant can apply for different b-schools. In this article you will get all the updated information relate to NMAT and modifications in the eligibility criteria and admission process of the NMAT.
Aspirants appearing this year can take maximum three attempts within a testing year (July 1, 2021 to June 30, 2022). A minimum gap of 15 days between two attempts is mandatory. Retake exam can only be booked after taking the previous attempt.
Expert Advice: As seats for test is based on first come first serve basis, below are the number of attempts that you will be able to take based on when you appear for the first exam. Aspirants are recommended to plan their first attempt as soon as possible, so that one may consume all three attempts in case you wish to improve your score.
Structure and Scores
Structure
In NMAT exam candidates get randomly generated questions from a large pool of questions and shown to the examinee one-at-a-time. The total questions, difficulty levels, and the time to complete for each of the sections is pre fixed and, and same across all test centres.
Aspirants have a choice of selecting the sequence of the test sections.
The NMAT exam has following three sections:
Language Skills
Quantitative Skills
Logical Reasoning
All the three sections of the NMAT have individual time limits so aspirants need to answer questions of each section within the pre fixed time.
Section-wise Topic Coverage
Language Skills: Reading Comprehension, Para Forming, Error Identification Prepositions, Sentence Completion, Analogies
Logical Reasoning: Critical Reasoning, Analytical Puzzles, Deductions, Other Reasoning
Quantitative Skills: Number Properties, Arithmetic, Algebra and Probability, DI Caselets and Tables, DI Graphs and Charts, Data Sufficiency
Scores
The aspirants should receive the score card with scaled score for all the sections and total for Test within 48 hours of taking the test. Email is also sent to the candidate for downloading score card.
Scaled scores:
This is little typical of the NMAT exam. Questions in the NMAT exam are selected from the question pool for each candidate based on their performance on the questions answered in the recent past. Questions the examinee gets are focussed at their ability level; so, a top- scoring aspirant in general will receive more difficult set of questions than a low-scoring aspirant.
The NMAT exam is scored by first finding the candidate's final ability assessment based on the probabilistic model approach of new exam theory, and then converted to a scaled score ranging from 12 to 120.
Register & Schedule
One needs to register and pay the application fee for NMAT exam before setting up an exam date and location. For taking admission in a particular B School students are required to visit the website of that particular B School and apply their separately.
Registration Guide
Registration and Payment
Create an account on register.nmat.org using a valid email address.
Submit your contact information, personal, educational and work experience, the list of programmes to send scores, and the ID that you will use for identification on the day of the exam. Show your interest in taking part in a search service and you need to agree to the terms and conditions.
Your name and date of birth that you enter on the registration form needs to be the same as on your Photo and Signature ID.
You need to choose the college to send your scores under the "Schools Preference" section. Maximum 5 programmes are incorporated in your registration fee. An additional fee of INR 300 + taxes will be levied for every programme added extra of 5 programs.
One needs to upload a photograph that should be similar to you and the photograph on your Photo ID. This photograph will be incorporated on the admit card that you need to show to the test centre administrator at the test centre or to the online proctor.
Pay the exam fee.
On receiving your payment the 'schedule exam' option is triggered in your dashboard, so that you may schedule your exam. You can book any slot after 24 hours from the time of booking.
Now you need to select the exam mode, whether you want to write exam at the Test Centre or Online Proctored at Home.

Schedule at Test Center

Click on the Book Exam button to reach the scheduling system.
Choose the Country and City and Test Centre and choose the date and time when you would like to take the exam

Schedule Online Proctored Test at Home (applicable for India and the rest of the world)

Click on the Book Exam button to reach the scheduling system.
First step shall be to fill out the My Profile section before moving onto Scheduling exam appointment

Users can setup their photo identification by uploading a Government issued ID. This ID must be uploaded for verification purposes. The following instructions are provided to the user.

Take a picture of your photo ID using a smartphone or a camera or webcam on your PC.
Save the image of the picture to your PC.
Upload the image from your PC to Examity scheduling system

Users can select from an available list of security questions to setup 3 security questions. System will prompt you to answer 1 of these security questions during your authentication process when you login to take the exam so please remember or note down your responses Exam Appointment

Please select the date and correct time zone to schedule the exam. Candidates in India should choose the time zone - (UTC+05:30) Chennai, Kolkata, Mumbai, New Delhi. Please ensure you choose the correct time zone as the 'Begin Test' button will be enabled at the time chosen by you.

User enters first name, last name, first name and last name and re-enters first name and last name.

No spaces or capital letters are to be used while entering this information. System will save the keystroke entry of the data that is entered, and this will be used as part of the authentication process when you login to take the exam.
If user fails to successfully enter ExamiKEY information 3 times, a red flag is raised.

You will be able to download your NMAT admit card from your dashboard once the payment is realized.
To enquire about registration, email [email protected].
Retakes
You will be allowed to take the NMAT by GMAC™ exam a maximum of three times during the year's testing period. This includes the first attempt plus a maximum of two retake attempts. No shows are considered attempts.
Your retake registration option will be enabled in your dashboard after your exam date. You need to register for the retake by simply clicking on the Retake section, selecting the exam mode and pay the retake fees.
Retake can be booked after the end of a scheduled attempt and the retake test can only taken after a gap of 15 days from the last attempt.
Online Proctored Exam at Home is accessible on few dates within the testing period and will be reserved on first come first serve basis.
Test Fees
Test Registration (Early): INR 2300 + applicable taxes
Test Registration (Late): INR 2800 + applicable taxes
Retake: INR 2300 + applicable taxes
Additional Score: Reports (beyond first five): INR 300 per Score Report + applicable taxes
Reschedule: INR 1200 + applicable taxes
Payment forms accepted: Visa MasterCard, American Express, Debit card,Internet banking and Diners Club
ON EXAM DAY:
ID Requirements, Exam at the Test Centre in India:
On exam day, reach at the test centre 45 minutes before starting your exam. You need to vary these documents with you: Confirmation email and Admit Card
One valid Photo ID and another Signature ID in original form must be presented from the list below for candidates taking exam at test centres in India:
ID Requirements: List of Photo IDs (Having your name and photo)
Indian Passport
Indian PAN Card
Voter's ID Card
Aadhaar Card
List of Signature IDs (Having Aspirants name and signature)
Indian Passport
Indian PAN
Debit Card
Credit Card
Driving License
Following documents will not be accepted as ID.
Learner's driving license
Photocopies (attested or otherwise)
Notarized copies
All the Aspirants need to mandatorily submit a health self-declaration at the test centre. This form will be provided to the candidates at the test centre.
Note: If by any means candidate is not able to show the above forms of valid ID, Admit Card or confirmation email (this can be shown on your mobile or taken as a printout) aspirants will not be allowed to enter the exam hall and will not receive the exam fee refund.
For online Proctored Exam at Home: On the day of exam, login to Examity website 15 minutes prior to your test schedule.
You are required to show the following documents to the proctor:
Confirmation email, either in the inbox or a print.
NMAT admit card.
Any other document as advised by the proctor for differently abled aspirants.
Valid Photo ID and Signature ID in original.
For International Locations aspirants taking are required to show the following documents on the test day.
Confirmation email, may be shown in your mailbox or as a print.
Admit Card
Valid Original passport
Note: If by any means candidate is not able to show the above forms of valid ID, Admit Card or confirmation email (this can be shown on your mobile or taken as a printout) aspirants will not be allowed to enter the exam hall and will not receive the exam fee refund.
Here is the List of:-