IIM News
Latest Update on: CAT 2022 | CAT Exam | IIM CAP 2022 | IIM Waitlist Movement | IIM WAT 2022
IIM Latest Updates
IIM Admissions - CAT 2022 Registration Starting From August 03, 2022
Latest Update - Last Date to Apply For CAT 2022 is Sept. 14, 2022
CAT 2022 Update - CAT 2022 Admit Card Will be avialable for download on October 27, 2022
CAT 2022 Update - CAT Exam date for 2022 is Nov. 27, 2022
IIM Ahemdabad Failed to attract the forigen students for admission in 2022-24 session.
IIM Lucknow Placements 2022 - Highest Package offered is 56.00 LPA (Domestic) and 61.00 LPA (International).
IIM Udaipur Placements 2022 - All the studnets of Bacth 2020-22 placed successfully.
IIM Ahemdabad Logo change desicion sparks the controversy among the people.
Learn more about :- IIM 2022 Placements
IIM Ahmedabad has just released the CAT 2021 data
Date: December 03, 2021
Following are the highlights of CAT Exam 2021 Updates:
As per the CAT 2021 updates, 434 students will be competing for each and every seat in IIMs. In 2022 IIMs will be admitting app 5300 students against 2,29,699 total eligible applicants.
CAT 2021 was held in 156 cities at 438 test centers on Sunday 28th Nov 2021. This was conducted during the three shifts.
The time allotted per shift was 120 minutes means 2 hours and for PwD students it was 160 minutes.
The maximum time allotted for each section was 40 minutes and 53.20 minutes for PwD aspirants.
The following table represents a section-wise breakup of the number of questions.
Total 1.92 lakh candidates appeared for the exam out of 2.30 lakhs registered eligible aspirants. The overall attendance was approximately 83%.
IIM CAT 28th Nov 2021 Attendance
2.31 Lakh Candidates Register for CAT 2021; Higher Than the CAT 2020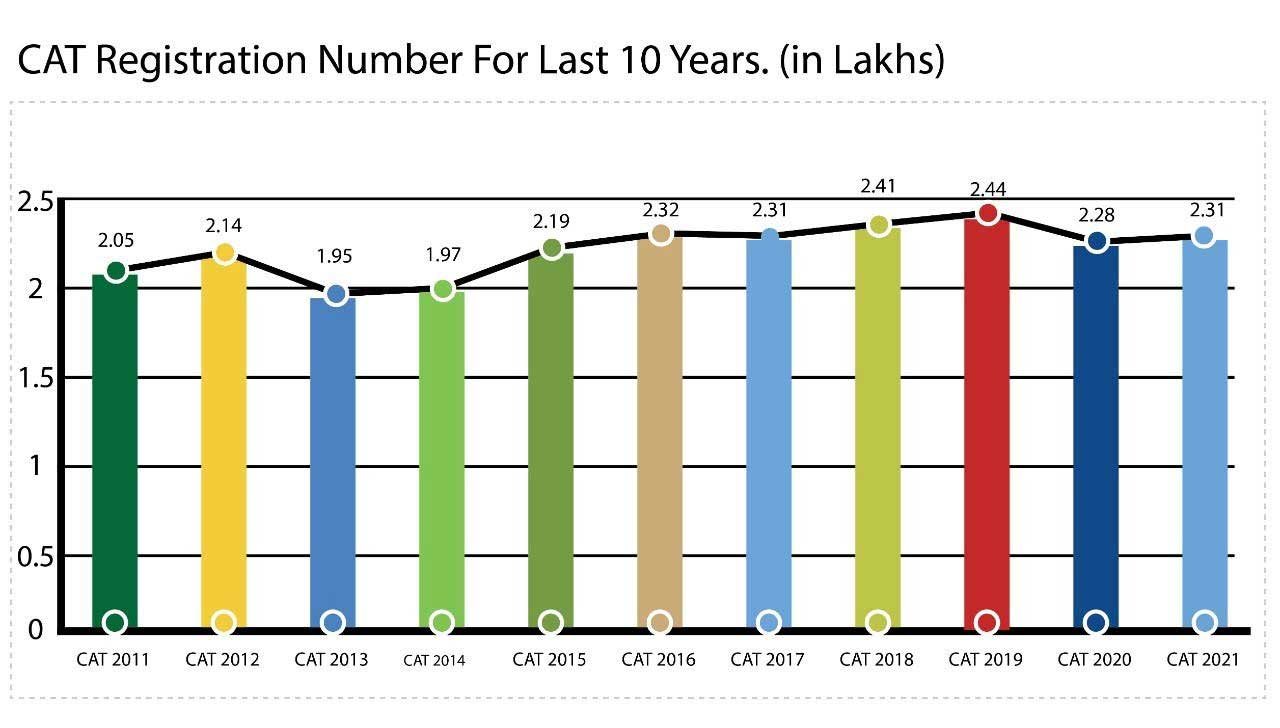 Selection Ratio: to remain 42 candidates per Seat
IIM A in their press release on 24th Sept has declared on CAT 2021 registration numbers.
As per IIM A in 2021, 2.31 Lakh candidates have registered for CAT 2021
CAT 2021 will be conducted on November 28, 2021 (Sunday).
The test format will remain same as last year, i.e. it will be in three shifts of 2-hour examination each, having three sections:

Verbal Ability and Reading Comprehension,
Quantitative Ability, and
Data Interpretation and Logical Reasoning

Candidates will get 40 minutes for each section, PwD candidates will get 13 minutes and 20 seconds extra for each section.
This test will be conducted at over 400 Test Centres, spread across 159 cities in India on Sunday 28 November 2021
Tutorials and mock tests to know the test format will be available on the CAT website from the last week of October 2021
Common Admission Test (CAT) is the largest MBA entrance exam, leading to admission opportunities in 150+ MBA colleges including IIMs, FMS, MDI, SPJIMR, IITs, TAXILA among others.
Also Read:-