NMAT Admit Card - 2021
NMAT 2021 - The Complete Guide
Download your NMAT Admit Card
Kindly see that your printed photograph on the Admit Card should be clearly visible. In case of any related issues you need to contact the help desk or email nmatsupport@gmac.com to update the photo.
If your photo is not matched, you will not be allowed to write test. Don't forget to show your Admit Card to the proctor on the Test day. You will not be permitted to entre the exam hall if you fail to show the admit card.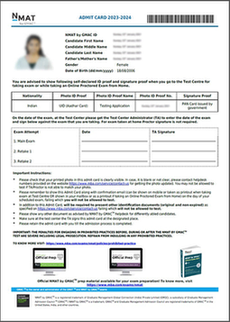 This is a document which have your registration details and photograph. For taking the NMAT test, you need to show the Admit Card along with other necessary documents on the day of the test.
You need to upload your photos as per the requirement given on the registration website
Admit Card with photograph can be printed only after the payment is accepted by GMAC.
You need to show the Admit Card to the proctor on the Test day.
Note:You are expected to keep your signed admit card till the final selection at the Business School.