The Concept of Atmanirbhar Bharat Abhiyan
The stimulus package announced by Finance Minister to spur the economic activities post lockdown and during opening up had a major emphasis on 'Atmanirbhar Bharat Abhiyan'. Atmanirbhar means 'self-reliant'. This was Prime Minister Narendra Modi's response to the economic crisis after lockdown.
He called for a self-reliant India, on May 12, 2020, in his address to the nation. Prime Minister Narendra Modi announced in his economic package of Rs 20 trillion with more focus on local manufacturers and service providers. In at least the medium run, the steps intended to strengthen the economy by improving the trade deficit and the exchequer balance of the country.
During the Covid crisis India saw a declining international trade; this gave encouragement to autonomous India. During COVID-19, from zero production of Personal Protection Equipment (PPE) before March 2020, India created a capacity of 2 lakh PPE kits daily, which is still growing. India also demonstrated how in these trying times various automobile sector industries collaborated to make life-saving ventilators.
Related Topic: The Impact of Covid-19 on the Economy of India
Hon'ble PM understood this drift and likewise the need of the hour, which was to use self-reliance as a resurgence for the Indian economy.12 sectors were identified by the government to give more focus to become a global supplier. Auto components, textiles, industrial machinery and furniture, food processing, organic farming are a few sectors among these.
The idea behind self-reliance is to ensure that India emerges as an important center of the modern multinational supply chains.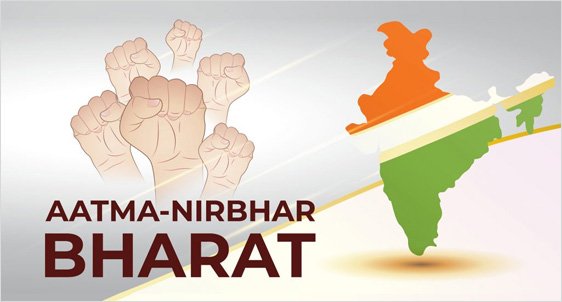 Intention of Atmanirbhar Bharat Abhiyan
The mission Intends to take some share from China in global manufacturing. India has the capability to drive more from its manufacturing capacities. Government is taking several steps to cheer domestic and foreign investments for which many trade barriers have been removed
The trade between

India and China

has fallen due to the slowdown. Chinese investments in Indian start-ups like Zomato, Swiggy, and Ola, etc. have been very large. Also, it is not a good sign if the percentage of Chinese shares increases to more than 50% in the companies. The government of India is hence committed to reducing dependency on Chinese products.
Atmanirbhar Baharat mission wants to develop an ecosystem that is required to produce efficient and cost-effective products comparable in global markets.
Controversy around Atmanirbhar Bharat Mission
Despite the positive motives, Atmanirbhar mission is being questioned due to its inability to provide adequate immediate relief in terms of gross Domestic Product (GDP) growth.
In current scenario of post covid times, individuals are trying to cut down their expenditure. The discretionary expenditures have come down sharply decreasing the probabilities of expansions and investments in various sectors.
There is an overall fall in demand. Businesses were already not investing, before covid times, and current situations likely to postpone it further.
Since 2020, government revenues have taken a big hit. It will have to cut its overall expenditures this year. Net exports are also plummeting, which too is unlikely to help matters. The government is also not raising its total expenditure. The momentum is not enough to curb the decline in GDP. As per the estimates, India's GDP will decline by 12.5% under the Base case scenario. Only when the government spends 3% of the GDP, economic growth will stay in the positive trend else the Indian economy will contract.
For now, there is no surety of what the government spending will be at the end of this financial year. Away from the promised level of 10% of the GDP, so far, government has been able to spend just 1% of GDP. This clearly indicates that Atmanirbhar Bharat Abhiyan cannot do much for the contracting Indian economy on an immediate basis.
Also Read: Make in India: The Idea Will Make India a Manufacturing Hub
Steps taken by Government since the announcement
Stimulus Package: The government took bold reforms to ease Supply Chain management for Agriculture, Balanced Tax Systems, Simple & Clear Laws, Capable Human resources, and Strong Financial Systems.
FDI in Defence Sector: In the month of September last year, foreign direct investment (FDI) of up to 74 percent in the defense sector was allowed, to invite overseas investors. The main aim behind this bold step was to boost domestic industry because India imports about 70 percent of its military equipment.
Prohibition on import of 101 defence items: To route the Abhiyan further, the Ministry of Defence prepared a 101 items list that were banned for import. This will be a big chapter towards making the country self-reliant for defence items. This list comprised of simple parts and some high technology weapon systems also.
India's own 5G network: Reliance Jio announced India's own 'Made in India' 5G networks in July 2020. A complete 5G solution from scratch was created by Jio. This is a world-class 5G service that will be launched in India and will use only homegrown technologies and solutions.
Vocal for local: With this concept PM, pressed upon the encouragement and use of local and home-grown brands. This will help not only the products to be manufactured in India, but the promotion like this will make them competitive as well. Local products must be appreciated and India must also 'make for the world' too.
Reject Chinese products: This year saw a major call for the boycott of Chinese products and at the same time promote an Atmanirbhar Bharat. Till this year India used to import $75 billion worth of goods yearly from China and was majorly dependent on China for various products and parts. The movement caught vigor and enthusiasm amongst the citizens of India. Immediately the Galwan scuffle took place post which, Boycott China movement gained more support and Chinese exports fell by 25%.
Immediate Ban on Chinese apps: 220 Chinese apps were instantly banned by Indian government for use in India. Popular applications like PUBG Mobile, TikTok, Weibo, WeChat, and AliExpressall exited to the efforts of Atmanirbhar Abhiyan and Boycott China drive. This laid impetus to domestic products and services.
Production-Linked Incentive (PLI): The government approved to introduce of the Production-Linked Incentive (PLI) Scheme in 10 important sectors like Advanced Chemistry Cell (ACC Battery), Electonic/Technology products, Automobile, and Auto components, Pharmaceutical drugs, Telecom and Networking products, Textile products, etc. This will increase domestic manufacturing and large investments in India.
Conclusion
This is not a short term concept. Even though Indian economy has an enormous potential to achieve self-reliance but there needs to be successful implementation by government and there needs to have a proper allocation and supply of funds. Since urban and rural sectors both have great capacities, proper allocations must be directed towards both sectors simultaneously.
All the ambition of government is not enough for the mission to be accomplished but there is a responsibility from consumers also to consume domestically produced goods. Since demand is a major driver, citizens need to be determinant to adhere to self-reliance plans.
India can produce simpler goods for highly technical products. But government needs to counter the challenge of being able to properly allocate funds and ensure that it reaches the actual hands.
Atmanirbhar Bharat Abhiyan focuses its attention on a few labor intensive industries and tries to inculcate competitiveness in the manufacturing sector. This is a unique model of development. India's development story has been different from other countries. Since it is time now to take a fresh leap and focus on the ways, India can become a global service destination. The vision of Atmanirbhar Bharat Abhiyan gives a strong thrust to supply side as it supports agriculture and business sectors.
The demand-side stimulus cannot be seen immediately but there is a desperate need for this demand stimulus now. Yet the package will be a big effort to help Indians and the economy confront the current slowdown and also place the foundation for a $5 Trillion economy soon.
Read Current GD Topics: