What is Data Privacy?
Data privacy is about how a piece of critical information or data must be used and controlled so that it does not break into the hands of miscreants who may use it for illegitimate purposes.
Typically the concept of Data Privacy applies to critical personal information or personally identifiable information. This may include Social Security numbers, financial data, bank account, and credit card numbers, full names, addresses, and birthdates, etc. Privacy issues must not just be looked at, as a matter of annoyance; it matters much more than that.
There has been a shift of perspective about privacy; earlier the approach focused more on leakage protection but now it is about fundamental rights
Also Read: Digital Payments in India
In May this year, Domino's consumers went jittery, after the data breach incident, in which a large number of data was hacked and leaked from Jubilant Food work Limited (the company which operates Domino's Pizza stores in India).
The consumers took to social media for transparency and accountability from Domino's Pizza. The breached data leaked out the information of 180 million users of Domino's Pizza restaurants.
The information included over 1 million credit card details, mobile numbers, and GPS locations, names that were made available on the dark web. Jubilant Food Works Ltd, although admitted to the data breach but claimed that the financial information of customers is safe.
The personal information that we give to companies can be used against us if it falls into the wrong hands. This is the reason why stringent data privacy needs to be in place to protect those customers and employees from security breaches.
Here are a few strong reasons why Data Privacy is important for your business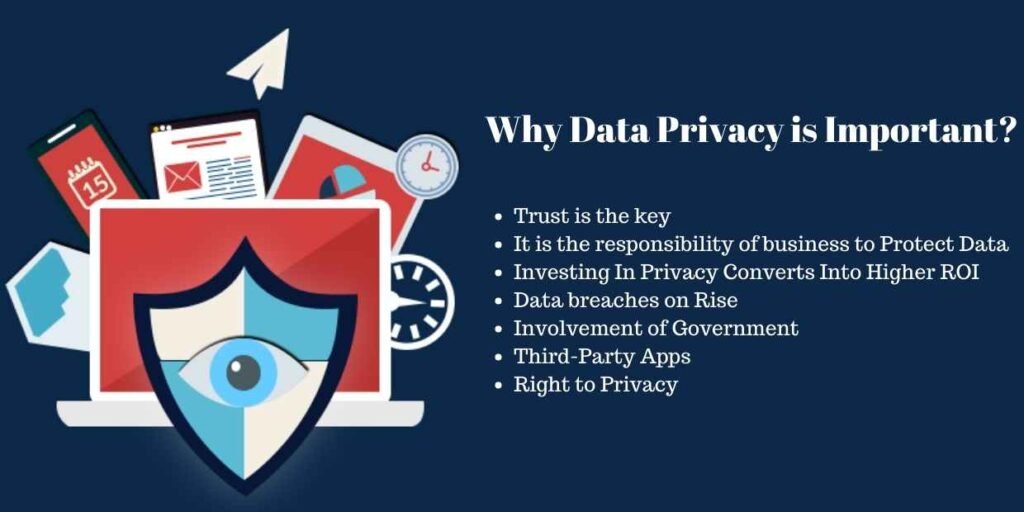 Trust is the key
Individuals like to share data with the institutions that they trust. They are likely to challenge or leave the organization where the breach took place.

Therefore, there needs to be an ethical use of data that should always remain within the regulatory compliance and should adhere to higher standards of protection. Only this is an important driver in enticing the trust of consumers.  

There are more and more people now who are voicing their concerns about data privacy. People are concerned about how personal data goes into the toss through mobile apps etc. This is the reason why privacy concerns are exceeding and consumers becoming more aware of how companies should be using their data.


It is the responsibility of business to Protect Data
Consumers strongly believe that companies need to be proactive about data protection and blame the company and not the hacker for the loss.

So the extent to which they will share personal information is based on their trust in a company and it is harder for the companies to earn their trust.  A large number of consumers in fact are likely to walk away from a company where they are required to provide highly personal data to conduct business.

To an extent, this is fair too, because the businesses should be best equipped to protect consumer's data and they must take responsibility to protect consumer data too.


Investing In Privacy Converts Into Higher ROI
Being equipped with a better data privacy system will create a competitive advantage or an investor appeal. The companies not prepared with security automation have often experienced data breaches.

The cost of a data breach may stand up to 95% higher than breaches of a full security automated organization. The benefits of investing in data privacy can be at least twice that of their privacy spend. A large number of customers go loyal to companies with strong security controls, as these organizations see better operational efficiency, agility, and innovation.


Data breaches on Rise
The growing number of hacker attacks put the consumers' and employees' personal information on compromise. The last 5 years have seen a maximum number of data breaches in the most prominent businesses around the world.

The time taken to detect and contain a breach is too long and the costs are even higher. While it may take an average time of 279 days to contain such a breach, the cost involved can be around $3.92 million. An average data breach costs $150 per record lost and an average company may have 534,465 files that enclose sensitive data.


Involvement of Government
Not just the consumers but the governments have also stepped in to regulate data collection. Tough laws pertaining to data collection, called General Data Protection Regulation (GDPR) was put in place by the EU on May 25, 2018.

The law empowers the consumers to give consent to the data that is being collected. The law mentions that their collection efforts must be easily understood by all consumers. The law also allows the right to access their data, the right to take that data as well as the right to the request to erase the personal data from your records.

If a brand fails GDPR compliance the penalties are harsh with fines of up to 20 million Euros, or 4% of your annual revenue, whichever is higher.


Third-Party Apps
Many applications allow you to log in through Facebook, without creating an account on their site. This action allows access to some of the information on your Facebook app.

This technique is used by Tinder to Amazon and various other prominent applications. It is very difficult to understand how much of your information gets exposed. So there is an extensive threat to your privacy posed by third-party apps. This is also a significant reason why data privacy is an important apprehension in this day and age.


Right to Privacy
The right to privacy means how an individual has the right to control the collection, use, and disclosure of personal information. Any record on interests, habits and activities, family records, educational records, etc. that could easily be used to harm the individual by an unauthorized third party is included in data privacy for protection.

The responsibility of data protection vests in the hands of organizations and businesses that collect data from their consumers. The fundamental right to privacy by an individual is very important therefore, an organization stands in need of applying this right. It needs to have the right design, development, and use of services and platforms to build trust.
How to keep your Data Safe & Secure: Data Privacy
Organizations should be using technology-based options to protect the data of their consumers. Although data analytics is coming out as the next big thing in IT market, data protection requires data minimization and reduced data collection. No personally identifiable data information should be collected unless there is a compelling purpose.


Another method is de-identification of the means and data that identifies an individual. Also, the user access controls must be allowed to empower consumers to restrict or grant access to their data. There are software that evaluates the privacy risks and determines the level of noise before releasing the result. Using encryption for hard drives, USBs, and phones prior to its transfer protects company data. Since the devices keep leaving the safety of company networks, encryption keeps sensitive data inaccessible to outsiders.


Bring-your-own-device (BYOD) policies have their benefits but allow access to sensitive information on personal devices. Companies must restrict the sort of data that can be transferred into such devices.


The policies need to mark the level of trust of a device. If the employees should use the personal device they should align their devices with the security of such personal information to function with the company compulsorily. Similarly, the cloud is now another integral part of digitalization.


Organizations can use tools specialized in data protection in the cloud. Most of all it is important to educate the employees at all levels because the human factor is the biggest vulnerability in data protection. Ignorance or negligence causes up to 54% of data breaches.
So the employees must be kept informed of compliance regulations as well as about the internal cybersecurity policies. They must be trained regularly with clear guidelines.
Read Current GD Topics: