India since independence has remained a cash dependent economy. India's cash to GDP ratio is 13 % whereas the global average is a maximum of 8%. The Indian government has been trying to go cashless to counter problems like illegal transactions, money laundering, black money ete. Demonetization was a big step towards going cashless and getting transactions digitized.
Elimination of 500 and 1000 rupee notes was a massive uproar towards digital transactions. Since then there has been a big shift and today we can see hawkers and tea-sellers accepting digital payments in many parts of India. Each month records 1.22 billion transactions on NPCI's UPI platform.
But the fact still remains that cash is still king in India despite this perceptible shift in favor of digitization.RBI's internal study suggests a high currency in circulation (CIC) in relation to the gross domestic product (GDP). India still continues to have this bias for digital payments.
Current Situation in India
Since the major evacuation step taken by Prime Minister Modi on 8th November 2016, there has been a steep rise in the number of digital users in India. The Paytm app has recorded an enormous rise of 200 percent in app downloads and a 250 percent increase in transactions.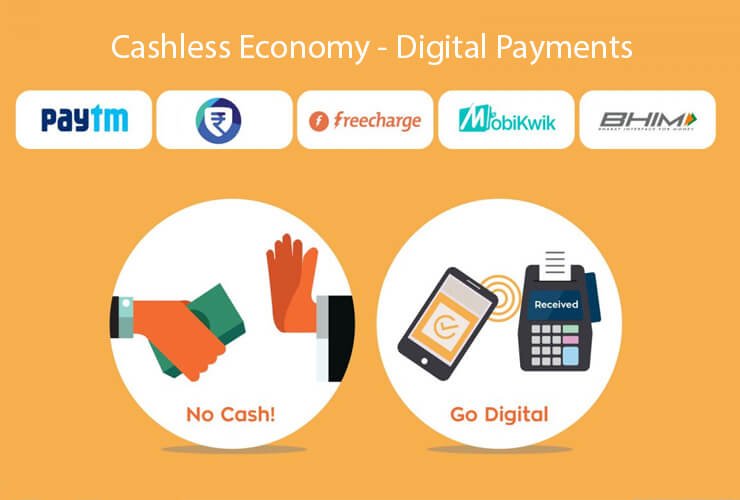 Apps like Mobiwik, phonepe wallet, airtel wallet, amazon pay have become more popular and widespread. India has been quoted among "break out economies" in Digital Evolution Scorecard developed by Tufts University's Fletcher School in partnership with Mastercard. India has also been ranked high in momentum, towards increasing digitization for both post-Covid recovery and also for longer-term transformation.
Demonetisation has directly pushed the digital payments ecosystem but the initiatives like Digital Media program, Jan Dhan Yojna, the compulsion of electronic payments f business for businesses above 50 cr have contributed to the growth of digitization. Particularly during the year 2020, a lot has changed the way India transaction Covid situation cts. There has been a push towards UPI, Fast Tags, and QR codes for merchants
In Covid's situation, the digital industry saw a major decline of -30 percent due to the impact of the travel, hospitality, and retail sectors. However, with the opening up the recoveries can be clearly seen but the impact is not lingering and the ecosystem will evolve rapidly.
With digitization, security threat has also alarmed the system like never before. Bank database, personal accounts, emails of businessmen, politicians, and prominent personalities have all been a target of cyberbullies. Cyber Security coordinator in India state that India is hit by 375 attacks daily in 2019. India is targeted the most for data breaches. Big names like ICICI, HDFC Haldiram, Hitachi, and many mares have so far been attacked.
Positives of Digitization
The economy has seen a fall after demonetization but there has been great improvement in black money and big illegal transaction.
The transactions take place within a fraction of seconds and take lesser time than cash transactions.
Cost of printing and transporting cash is saved
Corruption can be controlled to a large extent through digitized account transfers. The subsidies and money can be transferred to people's accounts directly, departing the likelihood of corruption.
Negatives
Digital payment modes cannot be translated easily to illiterate people and cannot be introduced to the remote villages of India. Villages in India are not well connected in terms of electricity and internet facilities, making digitization even more challenging for India.
India is yet to handle situations like cyber crimes, which are gradually progressing in the economy. Since these kind of transactions are still new to many and digital payments infrastructures are not developed enough, people are skeptical about online transactions
What needs to be done
The Indian government needs to offer secure and tight algorithms in order to curb cyberbullies and hacks. The data and databases for big companies, governments, and systems, must be well protected.
Also, there has to be much more awareness among the public about cyber threats and phishing. A cyber attack can leave one completely apart from the digital security, the public also needs to be aware of cyber threats and phishing that take place on a daily basis.
Falling as prey for cyberattacks can be a horrendous situation. Common people especially those who digitally less cognizant can be bullied easily over fake calls and suspicious links. Fraud identification and fake apps serving money transactions must be the special motives of security departments.
There is a need for investing in mobile infrastructure in the existing digital infrastructure. The policymakers should attempt to expand their ambits beyond increasing the number of mobile devices. They must know that in the long term internet access, devices, and overall consumer experience will be a very important factor deciding the path and speed of digitization.
To improve customer conviction in digital payments, a number of frauds must be controlled. Digital frauds and crimes will persist in the future as well especially during and after the pandemic. There needs to be a balance between customer experience with cybersecurity. This is a big challenge for our government and a lot of innovation and fraud prevention and protection controls must be implemented at the governmental level for the encouragement of digital India.
India has commanded the path to payment innovations with the introduction of QR codes. Similar initiatives must be introduced to increase merchant acquiring pace. There should be minimum requirements for merchants who plan to onboard merchant machines and limited knowledge of operations must not restrict their plans. In tier three and four cities, PoS machines must be most easy to operate and require less technical skill.
Some major product innovations in the digital payments space in India recently not only aids urban users but also pushes digital literacy. Examples of these product innovations are QR Codes, UPI for payments, Payment gateways, Contactless payments, SMS based payments, Prepaid cards, and more.
Conclusion
The e-transfer of money has been around us for a few years now and the country has greatly benefited from this technological advancement. The online payment systems have now largely facilitated not only the payments but also provide a way to finance everyday purchases through credit.
There have been many big leaps towards the virtual economy system but the identity thefts, market euphoria, and privacy issues have coexisted and will stay in the future also will always exist.
New financial technology has not been perfected yet by the government and can prove to be very costly to the common man unless and until proper usage is understood. But technology can only be the key to the common man's well governments successful management of money. Yet in India, we have seen a lower rate of increase in the virtual economy indicating a lot more steps to be taken for a perceptible shift away from cash,
At present both cash and non-cash payment apparatuses justify the needs of the population. Till these needs change both types of payments will meet the full range of users. The general public's increasing interest and use of digital payments for and the radical reconstruction of its cash economy shows a shift in its rapport with cash. steep growth observed in the retail digital payments is evidence of this.
Read Current GD Topics: