Petrol and diesel prices are a burning issue for a long time now in India. With the latest budget announcements, petrol prices are soaring to record levels reaching Rs 100 per litre mark in the metro cities. This pushes middle class families to reduce their spendings to manage the expenses and budget.
The rise crossed all measures and has increased for 10 days straight in the month of February 2021. This pushed the prices of all the retails across the country. Petrol rates crossed over Rs 100 per litre in Rajasthan, Maharashtra and Madhya Pradesh. It is important to note that petrol and diesel prices are retailing at the highest price in India as compared to its neighbors.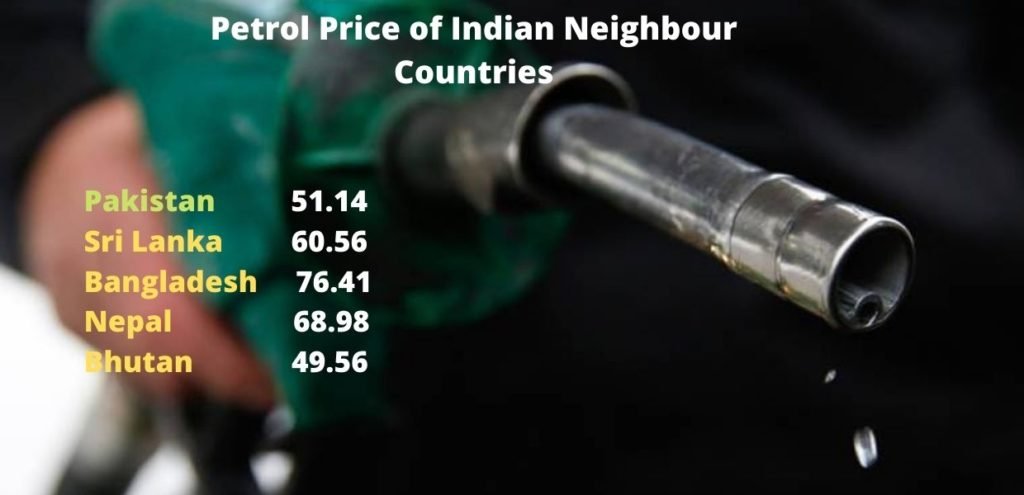 Pakistan retails petrol cost at Rs 51.14 per litre China at Rs 74.74 per litre. The cheapest petrol prices can be seen prevailing in Venezuela at Rs 1.45 per litre. So, let us find out what is causing this price hike in India.
Components of Fuel Price
Excise duty – It is levied by the Centre. This comprises of a major part of price of petrol. It has doubled since the year 2014.
Value added tax – It is collected by the state. It is charged on price of petrol and the dealer's commission.
Both the taxes together amount up to 63% of the cost. The retailers' commission and freight charge count up to a third of the petrol price.
What Impacts Petrol Prices
Petroleum products are used as raw materials, in transport sector, and in factories to run machinery. An increase in petrol price steeply shoots up the prices of many retail products as the production and transport costs rise.
Earlier the government was involved in the decision of petrol and diesel retail prices. The deregulation was done by the government in pricing of petrol and diesel, and the oil companies used to determine prices every fortnight. From June 16, 2017, prices were revised daily with a notion to reduce the instability of prices. But the dynamics seem to be working against the idea and prices do not seem to be stabilizing. From the facts, it can be noted that more than 50% of prices come from central taxes along with dealer's commissions.
The changes in Global prices of petroleum products impact India's economy directly and steeply. This is due to the reason that India imports 84% of the petrol products used in the country. This implies that any change in the global prices of crude oil has a significant impact on the domestic price of petroleum products. The consumption within India is also rising drastically according to the recent trends. As against 75% of total consumption in 2000, it increased to 95% in 2016-17.
Petroleum refineries in India are not efficient enough, which contributes more to the price rise of petrol and diesel. Now that price vitality has increased in domestic and international markets, being energy efficient is of utmost importance. Country should take steps for efficiency improvements. Although the studies have indicated Energy Intensity (EI) in refineries have scaled up, yet the refineries should carefully plan to ensure that requirements are met further.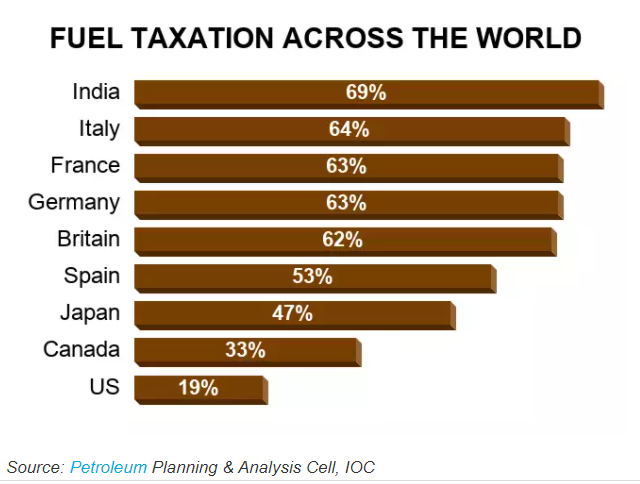 Government has been imposing high taxes on petrol due to the fact that India's consumption of crude oil is third largest in the world. India does not have oil reserves and 80 per cent of the consumption is imported from other countries. This brings a lot of burden on foreign exchange reserves and thus the government imposes taxes to lower the demand of these products. Government wants to emphasize on its alternative uses and electric vehicles. Government is under pressure to take such drastic steps as exchange reserves and 'Trade deficit'are on rise, reducing the value of Indian Rupee.
Also the revenue is used by government on improving infrastructure of the country.
The government utilizes this money collected to give subsidies to electric vehicles.
Is this Price Hike Justified or Not?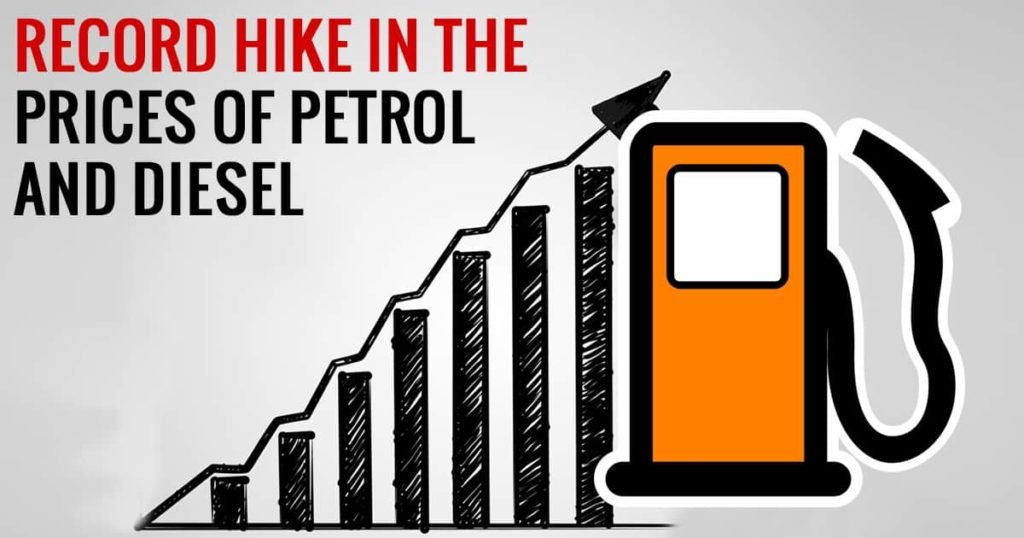 Petrol prices are skyrocketing day by day and it has a cascading effect on the daily life of common man. Looking at the government's viewpoint, the increase in price may be inescapable but its impact goes bad to worst on the poor people. This section will surely get paralyzed and burdened with this kind of price hikes that are unstable.
Just within the last 3 days, the petrol rates increased to 10 times. It is no conundrum that this, directly and indirectly, stirs down to every sector of economy. The impact is severe and a major part of their income is absorbed due to inflation. Starting from the transportation cost, price of goods to groceries these price hikes are digging a hole into the pockets of people; and the chain keeps propagating further.
More people are pulled into the poverty line making the situation adverse. Not just the poor but the middle class is also squeezed and many find it difficult to make both ends meet. However, there is no negative impact on government employees, rich and corrupted. Business class transfers the burden to common man and the chain reactions widen. So, the hike is unjustified
But there is a second thought also, that cannot be ignored and at the same time justifies the fuel price hikes. Locally the prices hiked in June 2020, after the stringent lockdown of 82 days. With already 80 percent of imports, India's crude oil requirement went soaring month by month. An increase in Global prices on the other hand has a direct impact on fuel prices in India. Demand for fuel, after lockdown, soared to last 11-month high in December 2020. In December only the imports were 29 % more than November. This was also 11.6 % more than last year.
Also Read: Lockdown: How It Is Helpful In Prevention of Corona Virus, Impacts, Pros and Cons
Global Crude oil prices also increased even though economic activities have contracted around the world. The Oil Producing and Exporting Countries, off late have decided to cut back on oil production, leading to an increase in prices.
The fuel prices in India between 1st April 2020 and today have mostly been looking upwards. This can be attributed more to the new duties and cesses imposed by governments. These taxes are the main revenue source directly to the Centre and states; hence governments have been relying much on these taxes to support weak budgets.
From the government's point of view, there is a need to compensate for revenues lost during lockdown. Similarly, state governments have also suffered losses in form of low fuel revenues and low GST from the Centre. 85% of state government earns from taxes and GST. A state government largely depends on taxes on liquor and fuel.
Impact of High Fuel Price on Indian economy
Indian economy is at a stage of slow growth & high inflation. Although the Govt's decision to hike the prices of petrol is unavoidable, it invariably affects the common man.
With the current situation of economy after the pandemic, there is a lot of uncertainty in forecasting the future. Even though there was a fall in international prices last year, Indian citizens could not reap the benefits as the prices were not lowered for crude oil in India in response to this fall.
Conclusion
This is probably the peak of oil prices and there is an utmost need for research and analysis for alternative fuels & energy sources. This will reduce India's reliance on oil imports. Solar & wind energy can be taken into use as India is also is 4th largest producer of wind energy.
India's railways system uses a large quantity of fuels. Here, a mix of high-speed diesel & bio-fuel must be encouraged. Recently the government has been experimenting on biofuels for railways. The success of implementation will have manifold benefits to the economy not just in terms of petrol costs but in terms of pollution emittance and health benefits also.
Government must also emphasize on the efficient use of energy. India consumes more energy for every unit of GDP when compared to many other countries.
For such situations, there is a need for innovative technologies like green technology.
It was once quoted by Ahmed Zaki Yamani who was oil minister in Saudi that "Never raise the oil prices as it will cause an innovation into wind, solar & other sources. Stone-age didn't end because we ran out of stones." Hence it must be understood and actioned by our governments and an alternative energy path should be adopted as soon as possible to curb the country's dependency on oil reserves.
Top 10 GD Topics with Answers: