"The art of leadership is saying no, not yes. It is very easy to say yes." – Tony Blair
True to it is very core, it is indeed very easy to say yes. We have said yes to Apps like TikTok, WeChat, Pubg, etc. without even once going over how it might negatively affect us. A ban on Chinese Apps is not bad, but the addiction is, and Chinese Apps just like Chinese products can be addictive. Go to the market and you will find ample of Chinese products and you might get attracted to it, but ask yourself, is it worth the money you are spending? It is not because we all are aware of the quality these Chinese products are of. Similarly, we have Chinese apps with equally degraded quality.
Also Read: India- China Relations
The app ban has been a punch on China's throat who wishes to become a tech giant of the world. Their apps have high users in India and a ban on Chinese apps in India will make them suffer economically as well. Not that we have any sympathy with China. This will also result in other app makers to follow the laid-out guidelines and rules for their apps.
India's step comes in maintaining and protecting the privacy of its citizens and these apps are transferring data outside the country in an unauthorized manner. It is a step to protect our country. Other countries in the world have applauded this brave step taken by the Indian Government and are now thinking of following the same step, in fact, the USA has decided to ban on Chinese apps from 20 September 2020, if reports are to be believed, which is going to be a huge problem for China as it will incur a huge loss and it would be hard to regain so easily.
On September 2, 2020, the Indian Government took a big decision on putting a ban on Chinese Apps. It was an iconic decision, which the world commended, and some have started to follow as well. Indian Government took this decision in lieu of LAC controversy, but the government gave the reason that these apps infiltrate privacy and steal data of Indians. This was
not a haste decision as the government gave these app makers to present their side and clear the doubts, but they could not.
This ban comes in the time when people are already angry with China due to the doubt that Coronavirus is man made and has been designed in Chinese labs, although China has denied this claim, they have made some serious enemies because of that. China has been trying to clear its image ever since but has failed to do so successfully.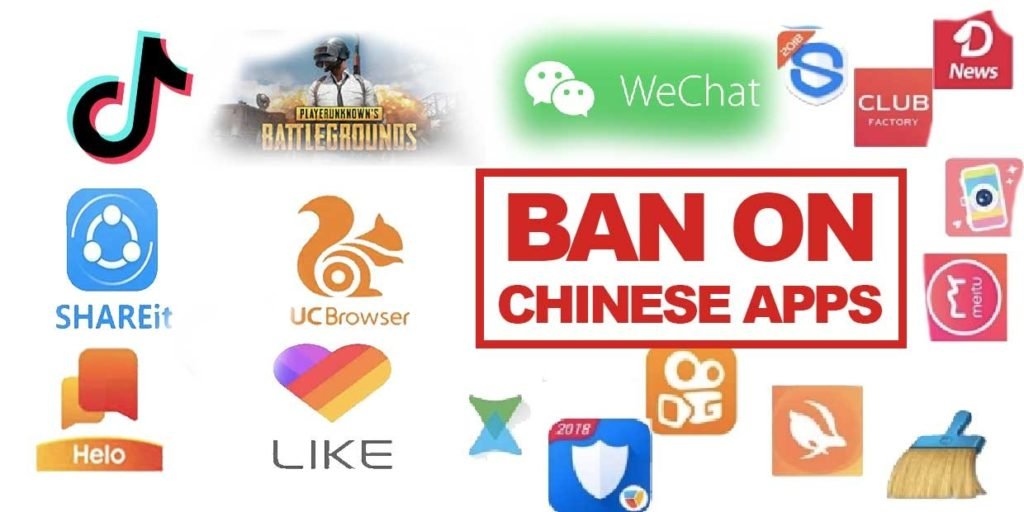 The ban on apps like TikTok is also welcomed due to the presence of vulgar content on its platform which was harmful as children were exposed to it. Some Tiktokers have become overnight stars and the pressure of maintaining the status has resulted in some taking the drastic steps of committing suicide because they just could not deal with criticism. One Tiktoker posted a controversial video of sexually assaulting a girl which backfired and resulted in his account being frozen. Some made videos on domestic violence and some recreated the infamous Nirbhaya case. Some Tiktokers have met with accidents while making a video, all in all, it is a risky business for health and sanity purposes. Most of the videos you see on TikTok will make you cringe.
Pubg an equally popular game that made students, kids, and adults equally addicted to it that sometimes they forget they might have some other business to do. People are losing control over themselves in the wake of these apps and it is we put a stop to this insanity.
The decision of the government is a happy change and people other than the ones addicted to these nonsensical apps have welcomed the decision with open arms.
It will also see a boom in the business of Indian techies designing apps for their own country and people, we already have Indian based apps in place of Tiktok, without any worry of data-stealing or privacy infiltration. It is an opportunity for Indian companies to bring their A-game to the world of technology. Start-ups will increase which will further result in more jobs. This move will also result in an increase in investment in data centers.
First List of 59 apps blocked by Indian Government which are prejudicial to sovereignty and integrity of India, defense of India, security of the states and public order
| | | |
| --- | --- | --- |
| TikTok | Shareit | Kwai |
| UC Browser | Baidu map | Shein |
| Clash of Kings | DU battery saver | Helo |
| Likee | YouCam makeup | Mi Community |
| CM Browers | Virus Cleaner | APUS Browser |
| ROMWE | Club Factory | Newsdog |
| Beutry Plus | WeChat | UC News |
| QQ Mail | Weibo | Xender |
| QQ Music | QQ Newsfeed | Bigo Live |
| SelfieCity | Mail Master | Parallel Space |
| Mi Video Call – Xiaomi | WeSync | ES File Explorer |
| Viva Video – QU Video Inc | Meitu | Vigo Video |
| New Video Status | DU Recorder | Vault- Hide |
| Cache Cleaner DU App studio | DU Cleaner | DU Browser |
| Hago Play With New Friends | Cam Scanner | Clean Master – Cheetah Mobile |
| Wonder Camera | Photo Wonder | QQ Player |
| We Meet | Sweet Selfie | Baidu Translate |
| Vmate | QQ International | QQ Security Center |
| QQ Launcher | U Video | V fly Status Video |
| Mobile Legends | DU Privacy | |
see the Detailed notification at https://pib.gov.in/PressReleseDetailm.aspx?PRID=1635206
Second List of 118 apps blocked by Indian Government which are prejudicial to sovereignty and integrity of India, defense of India, security of the states and public order
| | | |
| --- | --- | --- |
| APUS Launcher Pro- Theme, Live Wallpapers, Smart | APUS Launcher -Theme, Call Show, Wallpaper, HideApps | APUS Security -Antivirus, Phone security, Cleaner |
| APUS Turbo Cleaner 2020- Junk Cleaner, Anti-Virus | APUS Flashlight-Free & Bright | Cut Cut – Cut Out & Photo Background Editor |
| Baidu | Baidu Express Edition | FaceU – Inspire your Beauty |
| ShareSave by Xiaomi: Latest gadgets, amazing deals | CamCard – Business Card Reader | CamCard Business |
| CamCard for Salesforce | CamOCR | InNote |
| VooV Meeting – Tencent Video Conferencing | Super Clean – Master of Cleaner, Phone Booster | WeChat reading |
| Government WeChat | Small Q brush | Tencent Weiyun |
| Pitu | WeChat Work | Cyber Hunter |
| Cyber Hunter Lite | Knives Out-No rules, just fight! | Super Mecha Champions |
| LifeAfter | Dawn of Isles | Ludo World-Ludo Superstar |
| Chess Rush | PUBG MOBILE Nordic Map: Livik | PUBG MOBILE LITE |
| Rise of Kingdoms: Lost Crusade | Art of Conquest: Dark Horizon | Dank Tanks |
| Warpath | Game of Sultans | Gallery Vault – Hide Pictures And Videos |
| Smart AppLock (App Protect) | Message Lock (SMS Lock)-Gallery Vault Developer Team | Hide App-Hide Application Icon |
| AppLock | AppLock Lite | Dual Space – Multiple Accounts & App Cloner |
| ZAKZAK Pro – Live chat & video chat online | ZAKZAK LIVE: live-streaming & video chat app | Music – Mp3 Player |
| Music Player – Audio Player & 10 Bands Equalizer | HD Camera Selfie Beauty Camera | Cleaner – Phone Booster |
| Web Browser & Fast Explorer | Video Player All Format for Android | Photo Gallery HD & Editor |
| Photo Gallery & Album | Music Player – Bass Booster – Free Download | HD Camera – Beauty Cam with Filters & Panorama |
| HD Camera Pro & Selfie Camera | Music Player – MP3 Player & 10 Bands Equalizer | Gallery HD |
| Web Browser – Fast, Privacy & Light Web Explorer | Web Browser – Secure Explorer | Music player – Audio Player |
| Video Player – All Format HD Video Player | Lamour Love All Over The World | Amour- video chat & call all over the world. |
| MV Master – Make Your Status Video & Community | MV Master – Best Video Maker & Photo Video Editor | APUS Message Center-Intelligent management |
| LivU Meet new people & Video chat with strangers | Carrom Friends : Carrom Board & Pool Game- | Ludo All Star- Play Online Ludo Game & Board Games |
| Bike Racing : Moto Traffic Rider Bike Racing Games | Rangers Of Oblivion : Online Action MMO RPG Game | Z Camera – Photo Editor, Beauty Selfie, Collage |
| GO SMS Pro – Messenger, Free Themes, Emoji | U-Dictionary: Oxford Dictionary Free Now Translate | Ulike – Define your selfie in trendy style |
| Tantan – Date For Real | MICO Chat: New Friends Banaen aur Live Chat karen | Kitty Live – Live Streaming & Video Live Chat |
| Malay Social Dating App to Date & Meet Singles | Alipay | AlipayHK |
| Mobile Taobao | Youku | Road of Kings- Endless Glory |
| Sina News | Netease News | Penguin FM |
| Murderous Pursuits | Tencent Watchlist (Tencent Technology) | Learn Chinese AI-Super Chinese |
| HUYA LIVE – Game Live Stream | Little Q Album | Fighting Landlords – Free and happy Fighting Landlords |
| Hi Meitu | Mobile Legends: Pocket | VPN for TikTok |
| VPN for TikTok | Penguin E-sports Live assistant | Buy Cars-offer everything you need, special offers and low prices |
| iPick | Beauty Camera Plus – Sweet Camera & Face Selfie | Parallel Space Lite – Dual App |
| "Chief Almighty: First Thunder BC | MARVEL Super War NetEase Games | AFK Arena |
| Creative Destruction NetEase Games | Crusaders of Light NetEase Games | Mafia City Yotta Games |
| Onmyoji NetEase Games | Ride Out Heroes NetEase Games | Yimeng Jianghu-Chu Liuxiang has been fully upgraded |
| Legend: Rising Empire NetEase Games | Arena of Valor: 5v5 Arena Games | Soul Hunters |
| Rules of Survival | | |
see the Detailed notification at https://pib.gov.in/PressReleasePage.aspx?PRID=1650669
To be honest, the ban on Chinese apps is an iconic decision by the Indian Government, and we must applaud it as they did not see their own benefit behind the safety of the people. Now when I say this, I am partially sarcastic as the government had their own agendas to fulfill in the lieu of public safety, but on the positive side, our country's youth will no longer be exposed to the toxicity
of these apps. Instead of spending time on these useless apps, it would give them the opportunity to focus on their education because only education has the power to change the world. It will take some time to get over this addiction but as it goes "Change is inevitable" and people do get accommodated to the change.
You never change your life until you step out of your comfort zone; change begins at the end of your comfort zone

Roy T. Bennett
Group Discussion Topics for 2021