Update on Farm Bill 2020: Farm bill revoked. Yes, you heard it right!
Prime Minister Narendra Modi on Friday 19 November 2021, announced to repeal the three contentious agriculture laws that were enacted on September 17, 2020.
The Three Farm Bill passed by houses of Parliament was given a green signal by the President of India on Sunday, September 27, 2020. The Farm Bill 2020 has created quite a stir in India with a mix of responses among the countrymen.
THE FARM BILL 2020
The Farm Bill 2020 included 3 bills for farmers. The Bill are:
Farmers' Produce Trade and Commerce (Promotion and Facilitation) Bill
Farmers (Empowerment and Protection) Agreement on Price Assurance and Farm Services Bill
Essential Commodities (Amendment) Bill
Also Read: Full Details on 3 Farmers Bill 2020.
AIM OF GOVERNMENT: FARM BILL 2020
The Farm Bill was passed with a plan to reform the agriculture sector and bring better benefits to the farmers in terms of getting them good deals for their produce.
Agriculture is one of the biggest sectors of Indian economy, this change is going to see a very big structural shift.
The Modi government sees this as a pavement to let corporate investments enter the current ecosystem and also believes that this is going to be more profitable to farmers.
OBJECTION OF FARM BILL 2020
Many political parties and farmers of India are extensively opposing the Farm bill. Their outlook is otherwise and their version finds the farm Bill 2020 will Impact the welfares of farmers.
So, there have been protests and rallies against the current government and the farm bill in various parts of India.
Although there have been assurances from Agriculture Minister Narendra Singh Tomar confirming protection to Farmers in form of a Minimum Support Price mechanism and land ownership, a major part of the farmers' population is still protesting for the withdrawal of the Act.
HOW ARE THESE FARM BILL 2020 BENEFICIAL TO FARMERS? – PROS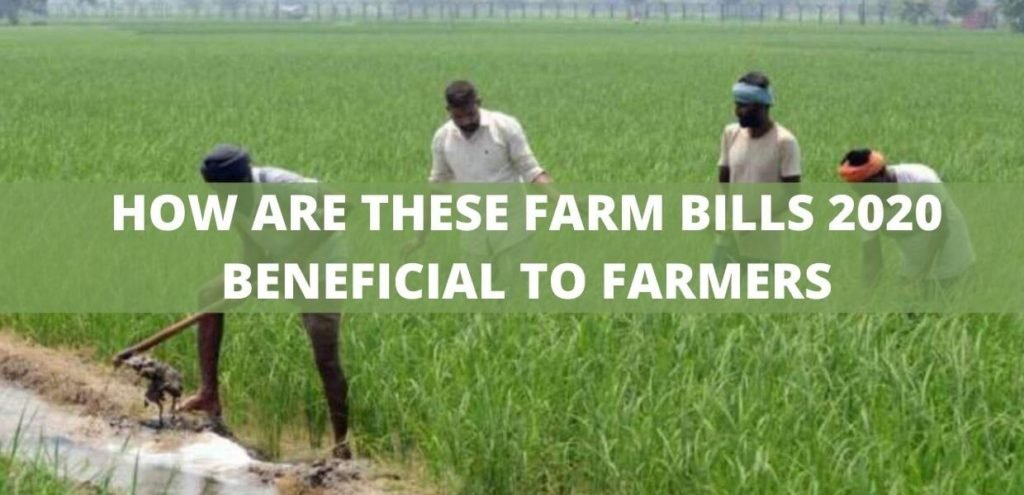 Farmers will have a vast territory and an alternate channel to sell their produce, creating a competitive market favorable to them. There will be a corresponding market ecosystem for the farmers while in the earlier set up they could only make deals through NAM system.
Farmers will not be bound to pay commissions to commission agents at mandis to sell off their crops. The farmers will now move towards a free and more flexible system.
There is an amendment to the Essential Commodities Act. The purpose of this act is to eliminate the insecurities of farmers. At present the traders purchasing from farmers consider that the stocks are excess, they hold stocks, and prices are penalized. This often imposed losses for the farmers.
Minimum Support Price remains in place and government procurement will continue.
The existing APMC system leads to rise in a cartel led by traders. Thus there is an unfair market and it pays farmers only the MSP for their produces.
WHY IS OPPOSITION TO FARM BILL 2020 SO STRONG? – CONS
The Farm Bill stands against India's soul of cooperative federalism and directly encroaches upon the functions of the State. The constitution says that agriculture and markets are State subjects while Central Government argues that trade and commerce in food items is a simultaneous list, thus constitutional decorum is maintained.
State governments will no longer be able to collect the market fee and levy cess thus this will incur a loss of revenue to the State Governments
There is a large scale fear of the demolition of APMC mandis. There will be disassembling of APMC which in turn points to the slow elimination and assured procurement of food grains by the government at MSP.
Farm Bill requires farmers to sign farm agreements, before the production of crops. Amongst many other terms, the price that needs to be paid should be mentioned in the agreement beforehand. In case there are variations in prices, the agreement must include a guaranteed price and clear references for additional amounts. This will include bonuses and premiums. Since there is no mechanism for price fixation, the farmers are not protected against price exploitation. Since corporate houses are given a free hand, there are possibilities of exploitation, owing to the unorganized nature of our agro sector. Also, farmers will lack resources when in need of a legal battle with corporates.
The Essential Commodities Ordinance has delisted cereals, pulses, oilseeds, edible oils, onion, and potatoes from the essential commodities list. There is the regulation on such produce even during the war, famine, extraordinary price rise, and natural calamities, only exemptions being exporters and processors. The exporters, processors, and traders may hoard produces at lower prices and release only when prices go up and States would have no control over the handiness of stocks.
Although the government assures MSP, no law mandates this. Farmers are more concerned with MSP.
About 500 farmer unions and transport unions are standing in protest against Farms Act 2020 and are demanding that the Government should repeal all three Acts. They firmly believe that the Acts are detrimental to their interests and that the government is pulling hands off the MSP responsibility.
CHALLENGES TO FARM BILL 2020
Mistrust has been formed among farmers against the government due to the fact that the bill was passed without debates. Hence implementation of the Act will be a challenge to the government.
Now that the restrictions on storage on a few products are repealed, imports of such products may increase. This again will be a challenge to protect domestic farmers from such imports.
CONCLUSION: FARM BILL 2020
The Exclusion of middlemen benefits farmers only when they have a well-formed infrastructure like markets, arduous storage facilities, electricity supply, and a link to food processing companies who could compete to buy their produce.

The government should also provide statutory backing to the MSP and government procurement in order to counter the insecurities of farmers.
Agriculture employs half of the population in India. It is surely in need to reform, but the new farm bill and the controversies surrounding it are unlikely to be a solution for farmers' troubles. On one hand, the new bill improves farm incomes, attracts investment and technology, on the other hand, it the middlemen who effectively run wholesale markets, and state governments stand to lose their income.  
The bill may prove to be revolutionary but the government needs to address farmers' concerns and put an end to their uncertainties. By way of open discussions for sake of removing loopholes
Frequently Asked Question: FARM BILL 2020
What is the New Farm Bill 2020?
Farm Bill or The Indian agriculture acts of 2020 were three acts initiated in our Parliament in September 2020. The bill was approved in September 2020 in Lok Sabha and Rajya Sabha. It was given assent by President on 27 September 2020. According to the ruling government, these acts are reforms to accelerate growth in agriculture through private investment.

 It intends to support small farmers in attracting better deals and investment in technology to improve productivity. Since the passing of the law, there has been a massive protest by farmers which led to the staying of the law by the Supreme Court in January 2021 for redressal of farmers' grievances.
What are the 3 Farm Bill passed for farmers?
1. The Farmers' Produce Trade and Commerce Bill 2020, lets farmers sell their produce outside APMC mandis.

2. The Farmers (Empowerment and Protection) Agreement 2020, provisions contract farming and direct marketing.

3. The Essential Commodities Bill, 2020, opens up storage, production, movement, and sale of cereals, pulses, edible oils, and onion.
Why are Indian farmers protesting against Farm Bill 2020?
1. The Farmers fear scrapping of MSP as the act provisions selling the harvest directly to private companies without relying on APMC Mandis.

2. Most agricultural products have been removed from the Essential Commodities List. This will lead to price volatility and hoarding.

3. Farmers also fear that allowing private investment in farm infrastructure may squeeze out the traditional farmers.
How will the New Farm Bill 2020 help the farmers?
The New Farm bill gives farmers and traders opportunities alike. They can have freedom of choice in sale and purchase of produce. There will be an alternative trading channel to promote competition, leading to better deals in favor of farmers.

Farmers get cost benefits in form of reduced transport cost, no commission, lesser transaction cost, and a large number of buyers. As the farmers will be able to connect directly with the big traders and exporters, it will bring profit to agriculture and bring revolutionary changes.
Latest GD Topics :