MBA in Event Management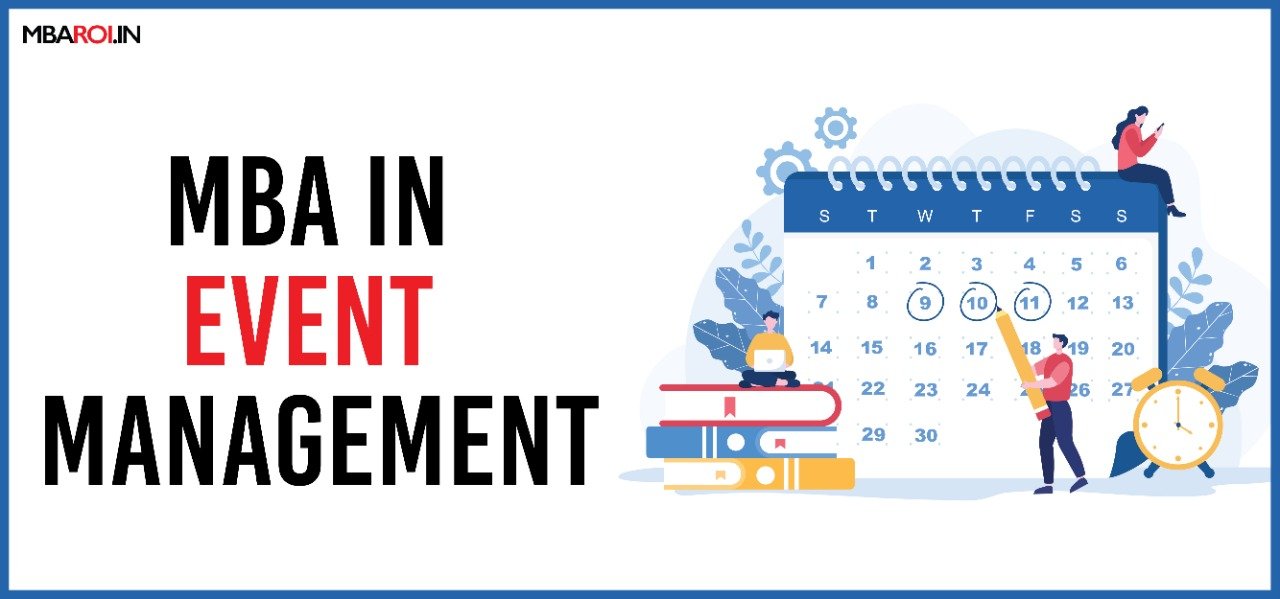 Event management, is not just a glamorous and exciting profession, but it is also an intense form of advertising and marketing. The professionals in event management industry, get to unleash their creative potential. The scope is enormous for a career in event management in today's market oriented world.
What is Event Management?
Event management comprises of a diversity of functions for performing large-scale events like conferences, concerts, festivals, conventions, trade shows, and ceremonies etc. It includes handling the logistics of the event, managing the staff, working with them and steering the project management of the event as a whole.
MBA in Event Management
MBA in Event Management is a post-graduation course that empowers the aspirants to plan, develop, and organize market events. The MBA program curriculum is designed to educate students to efficiently handle events such as weddings, festivals, corporate and sports events, concerts, exhibitions, fairs, conferences etc. MBA in event management helps unification of the elements of tourism, leisure, hospitality, and planning. It involves development of a strong hold over the concepts, linked to budget preparation, human resource management, promotion, and finance.
Event management is more about, giving a system to the ideas by launching an event. This requires extensive research about the brand being promoted, its target audience, theme, logistics and technical instruments.
Some of the common subjects covered in MBA in events Management courses are:
Advertising Management
Cross Cultural Management
Event Production and Logistics
Public Relations
Event Marketing Campaign
Culture and Entertainment
Budgeting and Costing of Events
Entrepreneurship
Event Campaign
Event Risk Management
Sales Promotion and Brand Management
Business Communication and Negotiation Skills
Scope
MBA in Events Management opens up an array of job opportunities in advertising, media, travel, hospitality, & tourism, public relations firms, news media, event management companies, consultancies and more. The work entails, organizing corporate seminars, Coordinating fashion shows, product launch, wedding celebrations, visualizing theme parties, budgeting musical concerts and so forth.

The different career options available to you with a degree in MBA in event management are:
Event Planner
Event Manager
Exhibition Organiser
Stage Decorator
Wedding Planner
Logistics Manager
Conference centre manager
Event manager
Hotel manager
Outdoor activities/education manager
Public house manager
Restaurant manager
Charity fundraiser
Marketing executive
Museum/gallery exhibitions officer
Public relations officer
Sales promotion account executive
Talent agent
Tourism officer
5 Good Reasons to Choose MBA in Event Management
For those interested in entertainment and advertising industry, or those who have an aptitude towards planning and organizing different types of events, MBA in Event management could be a great career path for you. Here are a few reasons why a career in Events Management is emerging and will be in high demand in future.
Events are dynamic and are growing at a rapid pace that opens up opportunities, especially for those who love action, challenge and outdoor work.
MBA in Event Management is an emerging branch of business and Management and is popular amongst the ones who wish for a career in the entertainment and advertising industry.
Glassdoor studies reveal that in a government job, Event management MBA graduates can get salaries up to INR 8,00,000 p.a. even as a fresher. In Private sector, the aspirants can earn more.
Events management is a vibrant arena, with many operational encounters and experiments. It lets one build big collaborations, meet up with a lot of people, and has a lot of excitement.
This profession can take you places and get you a vast exposure to new spaces.
Taking a look at the statistics, Indian economy witnessed a great growth in last 5 years in the events industry, and experts believe that it is just the commencement of a new era. The industry elevated at Rs 5,631 crore in 2016-17 and expects to grow 16% CAGR (Compound Annual Growth Rate). Visibly the growing number of events and functions convey a lot about this industry.

Salaries, Fees and Admission Process
Salaries: The scope is high with MBA in Events Management in the events industry. The average pay scale for MBA graduate ranges from INR 1.5 - 18.5 LPA depending upon various factors. Events industry has a huge demand for manpower to organize events, and getting at the higher levels, one can earn considerable money.
Fees: The fee for the top colleges that offer Event Management programs can be lesser than 1 one lakh Rs. Some private colleges like Pearl Academy even charge above Rs 5 lakh, based on their course type and duration.
Admission process: For admission in MBA - Event Management Course contenders can attempt national/ state/ university/ college-level entrance exams. Some popular exams for entry into MBA colleges are MAT, CAT, CMAT, SEE, XAT, IEMJEE, BMAT, ACET MUEE, IIFT, MHT CET, SNAP, IBSAT, GMAT. Some colleges also offer direct admissions on the basis of Bachelor's degree and 12th class performance.
Things to Consider When Choosing Your Program
Every year, this time around MBA aspirants face an array of life-changing decisions. When choosing your Events Management course, the factors should be distinctively personal. Since MBA in this field offers a very good ROI, the turbo boost of an MBA will add to your earning power. So invest in a long view and don't be swayed by the money you get in the short run. Also, before finalizing your college for MBA, go through the list of MBA ROI Recommended Colleges in India.
The ROI of this MBA course is beyond rupees. This is your access to relationships, opportunities, faculty, and networks like no other arena. Some of the popularly adopted MBA- event management colleges are, National Academy of Event Management and Development (NAEMD)-Mumbai, National Institute of Event Management -New Delhi, EMDI Institute of Media and Communication, New Delhi, Indian School of Media -Mumbai, National Academy of Media and Events (NAME), Kolkata etc.
The list is long, and the deciding factors may boil down to some tangible and non-tangible influences. Therefore, take a wise decision. Events are indeed the doorstep to most dynamic, growing career prospects.
Featured Colleges