Ask any question on
Life, Education, MBA & Career
Grab your Chance… Be with Expert…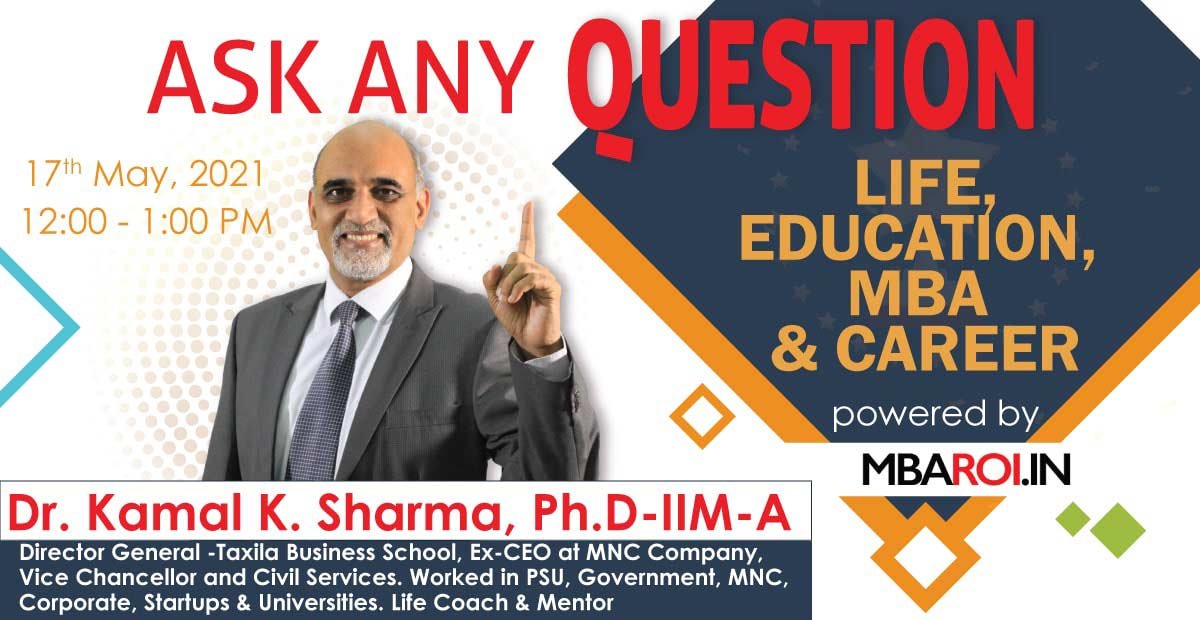 Speaker:- Dr. Kamal Kishore Sharma, PhD-IIM-A
Director General - Taxila Business School,
Ex-CEO at MNC Company,
Vice Chancellor and Civil Services. Worked in PSU, Government, MNC,
Corporate, Startups & Universities. Life Coach & Mentor
Educating yourself is the most profitable investment in life. It beats everything. It gives you life skills, knowledge, work skills, career, money, excitement and satisfaction. It is a unique differentiator. However, low clarity & low awareness is widespread. You struggle to answer a lot of questions to yourself like:
What can education do for you?
What is a smart choice?
How right education is the best investment in YOU?
Why MBA? Which college & which specialization?
What is the future of government & corporate jobs?
How should I calculate ROI on my education investment? etc.
Do you want to beat your own expectations from life? Go no further. This is your golden chance to be at this great webinar and ask your questions in person? If you show further interest, you can get a direct audience with the speaker?
The speaker Dr. Kamal Kishore Sharma, is an MBA of 1989 vintage and then a Fellow (PhD) from IIM Ahmedabad. He has a rich experience of 32 years across different roles, careers, geographies. He has achieved almost everything what a student dreams of – be it a Public Sector Manager, a Class I Government Officer, a CEO at a Multinational, a PhD from IIM Ahmedabad, a Vice Chancellor at a University, Director at Startup Firms, Founder at NGO & now a Director General at Taxila Business School. He strongly believes that "you have only one life" and a good mentor & guide is all you need to do well in this life.
Learning Outcomes:
How to deal with these issues of life, education, MBA, careers, entrepreneurship? Here is your chance to ask the expert in person and change your outlook on the most burning questions in life
| Sun | Mon | Tue | Wed | Thu | Fri | Sat |
| --- | --- | --- | --- | --- | --- | --- |
| | | | | | | |
| | | | | | | |
| | | | | | | |
| | | | | | | |
| | | | | | | |
| | | | | | | |