The Question about Unemployment in India is often asked in Group Discussion(GD) rounds as the unemployment situation remained in India right from its Independence. Unemployment is a situation of lack of jobs even when people are ready and willing to work. In India, this issue of unemployment has had different structures at different times and has been dealt with differently during different Plan periods.
Initially, unemployment was not expected to emerge as a key problem. Reasonable growth rate and labor intensive techniques were believed to have countered the increase in unemployment. This expectation continued in all Five Year Plans till the 1960s. But the economy grew slower and the labor force increased for employment.
Retaled Articles: Selling During Covid 19
The unemployment figures doubled during 1956-1972. And recently, India's unemployment rate rose sharply to 9.1 percent in December 2020 even as economic activity continues to increase post-Covid. Unemployment was highest in December 2020 in the past six months from the time Covid started in India. Last year the estimated youth unemployment rate in our country has been was 23.75%.
Over the decade this figure remained around 22% according to ILO reports. India witnessed an increase in entrepreneurship without an increase in salaried jobs. This indicates that much of this growth was self-employed and shares only small-scale businesses.
Causes of Unemployment in India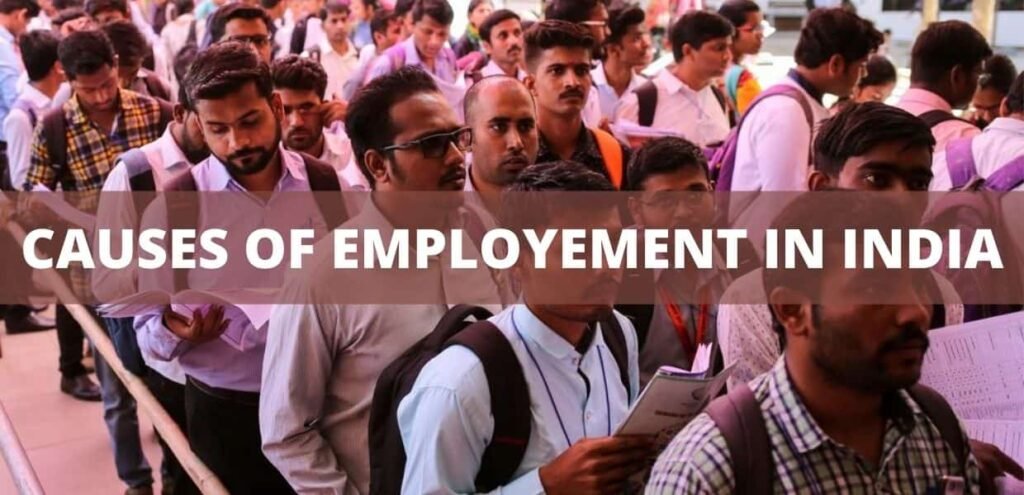 · Lack of the Stock of Physical Capital
Lack of Physical capital is a major cause of unemployment and underemployment in underdeveloped countries. As the technology and specialization expands its bounds, people need much more capital to engage in the productive activity. In India the working force rises faster than any other country.
Every year our governments face the challenge of being able to absorb this additional labor force inproductive employment system. India does not have enough instruments of production in order to be able to employ them. This gives way long-term or chronic unemployment.
According to classical economists, the rate of capital formation needs to be kept sufficiently high in order to absorb the additions to the working force. India's labor force grows at approximately 2 percent per year but our rate of investment does not raise enough to keep pace with the growth of the population.
Therefore, the Indian government's efforts have not been much fruitful in the ability to offer productive employment. This manifests itself into unemployment in rural areas and disguised unemployment in agriculture.
· Slow Economic Growth
India's huge population accounts for more than 1.3 billion people and is predicted to exceed China's population by the year 2024. And the country's economic growth is not able to catch speed with population growth which has constantly given rise to unemployment in India. This leads to a larger share of society being unemployed. The Industrialization process has been considerably low here, despite a major emphasis on industrialization nationwide. Industrial growth continues to generate jobs in a relatively slow fashion.
·Neglected Role of Agriculture in Employment Generation
In the first three five-year plans, India (1951-65) worked with the perception that agriculture already contained surplus labor and it must be removed from there and should be employed in the modern industrial sector. By the mid-sixties, it was realized that the modern industrial setup could not absorb this labor productively, even a fraction of the existing unemployed.
Agriculture can generate however create employment if a good strategy exists for its development. An example is that; on an irrigated hectare of land, the number of man-hours employed is almost twice that of an un-irrigated hectare. Double cropping also raises employment potential.
New agricultural technology, i.e. HYV (High Yielding Varieties) is highly labor absorptive and can be equally adopted by smaller farmers. Punjab, Haryana, and Western UP are examples of employment generation in agriculture. The government should diffuse and adopt development strategies in backward and lagging agricultural regions in this direction.
·Lack of Infrastructure
Inadequate availability of roads, power, telecommunications, highways, irrigation facilities in agriculture is one major problem in the generation of opportunities for productive employment.
The other major causes are automation, quality education, unemployment in Indian women, etc. The effect of unemployment hinders a growing economy in many ways. It is directly proportional to the rate of growth, low standards of living, illegal jobs like robberies, the gap between the rich and poor.
Steps taken by Indian Government before covid times
Skill India initiative was introduced to train youth for in-demand jobs.
Integrated Rural Development Program: IRDP was launched in 1979 that supplied more jobs for the rural people bringing employment in agriculture, fisheries, road constructions, etc.
Drone Prone Area Program: DPAP was launched in areas that see droughts to delete seasonal employment from society.
Jawahar Rozgar Yojana came in the year 1989 ensured employment to a minimum of one member in the family and this immediately shot up the employment rate. Nehru Rozgar Yojana also created small jobs for poor urban people.
Employment Assurance Scheme intended to offer jobs to backward class blocks in various cities like West Bengal, Kerala, and Rajasthan.
Make In India: This initiative planned by our Prime Minister Narendra Modi aims at generating employment especially in manufacturing industries and discouraging foreign-made goods.
Unemployment situation and Covid times
Five months into the lockdown, India has witnessed a sharp decline in the number of jobs in the formal sector as well as the informal sector. Salaried jobs or even entrepreneurs are suffering the most during the current economic meltdown. The jobless growth hit a low in 2019-20 with salaried employment declining to the low of 21.3 percent. India lost 2.1 crore salaried jobs by the end of August, according to India Today News.
A large part of India's workforce also went employed in the informal sector. With the sudden meltdown the informal economy is also feeling the heat.
Only the rural economy was on a steady rise during the lockdown period because farming was the last resort for those who lost jobs. Daily wage laborers were forced to return to their native places leading to massive mass migration in every nook and corner of the country. The damage was deeper, among industrial workers and white collar workers,"
Government measures to counter unemployment that rose due to covid
After lockdown, the Ministry of Labor sent instructions to all state governments to provide financial assistance to construction workers.
About 2 crore migrant workers were provided Rs 5000 crores directly into their bank accounts.
Ministry of Labor and Employment had also set up control rooms all over the country to address migrant grievances.
Government measures to counter unemployment during these trying times included huge steps like:
A huge amount of food distributed to the public.
Direct financial credits to farmers, MONREGA workers, Jan Dhan account holders, women, senior citizens, self-help groups 
Liquidity measures by way of  reduction of policy repo rate, an easy extension of loans, reduction in CRR, Reduction in a liquidity coverage ratio of banks
Relief to MSMEs, NBFCs, Power Utilities, Moratorium etc.
Atmanirbhar Bharat Rozgar Yojana introduced and intended to boost rural employment in informal employment.
Emergency Credit Lines to provide liquidity support to the 26 stressed sectors of the economy.
Conclusion
The steps taken by the government are satisfactory but not sufficient in providing jobs. Now there is also a demand for permanent employment and job security. But poverty limits discourage India to move forward in the struggle. Literacy levels must be improved and more jobs are needed in the corporate sector. For those with the required skills, the challenge is overpopulation.
There is a startup boom and globalization has improved the situation for youth. But the Government needs to bridge the skills gap and invest more in creating jobs. The government needs to focus more on the Active Labor Market Policy (ALMP) that is charted worldwide. It ensures to secure the job losers and provide long-term employment to such people. Secondly, it extends help to job-seekers.
Also Read Group Discussion Topics 2021