"The best investment you make is an investment in yourself. The more you learn, the more you will Earn." – Warren Buffet (One of the greatest Financial Wizard of all times)
According to a study conducted amongst more than 14,000 business school alumni and 275 programs worldwide, it was found that on average, a B-school alumni achieves an ROI in less than 4 years after graduating and some even in 1 year.
Also Read: Top 10 MBA Colleges in India
Ever since it was introduced in 1908 at Harvard Business School, MBA became an unprecedented internationally recognized master's degree designed for graduates to develop managerial skills for pursuing careers in business and management; and this has become the much sought after business management degree in the world today.
Which MBA Makes you Crorepati Faster? – Use Free ROI Calculator
WHY MBA?
As a professional one is faced with the question if one should invest the time, money, and effort in a Management program. Pursuing a PGDM/MBA is an important career decision and is critical to furthering one's career prospects. Just like any key business decision, the decision to do an MBA should be thought of as an investment. One should clearly weigh the personal and professional reward that comes from earning an MBA degree. Let us objectively weigh the dividends that come from investing in a good MBA program.
Here are 06 reasons why you opt for MBA?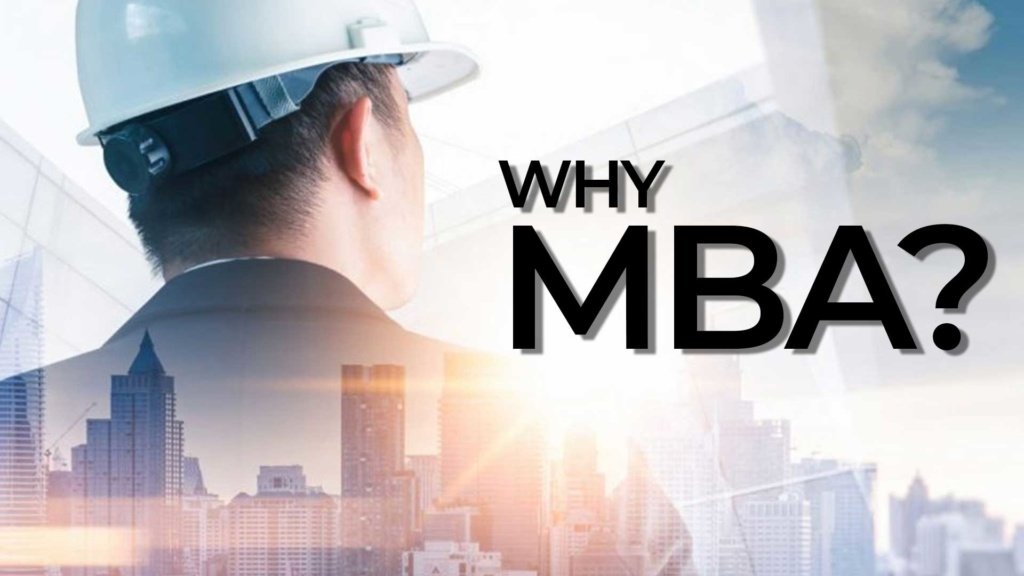 #01 – Return On Investment (RoI)
Doing an MBA is an investment of time and money. Therefore, as a savvy investor one must evaluate what is the RoI? Per multiple credible research by "Poet and Quants", WSJ, etc one sees a significant salary increase post an MBA. Per the research, it is typical to see a Salary Increase of 30-50% post a good MBA.
An MBA degree opens up multiple attractive avenues with career in fields with greater remuneration packages like Consulting, Business Analytics, Finance and Investment Banking, Marketing, International Business, Program Management, and General Management that may not be available for a regular graduate.
A typical MBA graduate can earn anywhere from Rs. 9L to Rs. 25L per Annum in India. For international placement, an MBA graduate can command almost Rs 1 Cr. The cost of doing an MBA is a fraction of this cost. Therefore, once you land a good placement post an MBA, the RoI could be less than a year. Therefore, it is no brainer that doing an MBA will pay off rich dividends once you land a good job.
#02 – Opens The Door To The Executive Suites & Corner Offices
In today's complex business ambiance MBA is a necessity for top Managerial or Executive positions. Tim Cook of Apple, Darren Woods of Exxon Mobil, Indra Nooyi of Pepsico, and many other successful CEOs have an MBA. Through a Bachelor's or Master's degree in Arts, Commerce, or Science one reaches a point where you hit a glass ceiling beyond which your career may start to stagnate irrespective of your expertise or smartness.
This is why several ambitious individuals choose to arm themselves with an MBA degree to crack through the glass ceiling. An MBA provides an individual with the qualification and credibility to be considered for a corner suite within a company and climb the executive ladder.
#03 – Strong Foundation & Framework For Long Term Success
Business in the 21st century has become very complex because of globalization and intense competition. A top executive needs to not only be a domain expert but needs to have a strong foundation in multiple business functions like Sales and Marketing, Finance, HR, Law, and General Management.
A good business school will provide through good case studies, business frameworks, and group learning a strong foundation in multi cross-functional disciplines. Building a strong foundation in multiple cross-functional areas is key to becoming a successful leader in business and in one's own personal life. There is no other course that can provide a broad but still a deep foundation in multiple disciplines as a good MBA program. that's why mba degree is in demand always.
#04 – Change In Career
MBA is not only a means of jet fueling your career to higher levels as mentioned above but is also a means of changing your career. For e.g. A software engineer may be frustrated with writing code all day long and may want to take on a role in Marketing or Finance. Or a bank clerk may want to make a transition into Investment banking and private equity which are much higher-paying jobs.
MBA provides you the option to switch careers either from a technical role to a more business-oriented role or from a lower-paying job to a higher paying job. There is no other degree which in two years can provide a career-changing option other than an MBA. This program is a gateway to transition into a career that you love while getting paid a lot more.
#05 – Global Perspective & Leadership
MBA programs with a general management curriculum, international case studies and field-based exercises provide a great resource to develop international perspective and leadership. As many of the global roles need marketing or consulting expertise, MBA programs are best-placed programs to prepare one for a global role.
MBA also provides you with the tools around communication, negotiation and international business that equips an individual to confidently take on a global role or lead a multinational company.
#06 – A Lifetime Investment In Yourself
MBA is not just a short term investment with high RoI. The greatest benefit one gets from an MBA program in the long term. Although one ends up getting a good RoI in the short term by landing a higher paying job after graduation, the greatest RoI comes from life long career growth and future potential. Typically, earning consistently a return of 15% in stocks over multiple years is considered exceptional.
If today one makes roughly 2 Cr. through investment in stocks it would be considered a dream come true investment. But it is a high-risk investment. Per multiple credible research, someone with an MBA degree on average ends up making 5-10 Cr. more than a non-MBA over a period of 20 years. Compare this to high-risk stock investment. Additionally, the MBA also makes you a better life long investor because of the frameworks and tools you learn during the course. Therefore, not only do you gain greater earning potential through lifelong career growth but you also become better at managing your own life and investments. MBA teaches you both business and life skills.
Hope your doubt is clear – why MBA is important?
Other informative blogs for you